Do you have the leadership skills to produce tangible financial results for the business but are struggling with the right choice of certification? If yes, then you are at the right place. There is no denying the fact that the industry is filled with vendors and schools offering training and certification. So, the question which arises here is, which certification to choose and how?
Therefore, in this blog, we will be providing a list of the best options for Six Sigma Certifications. However, before we begin, let's first make you familiar with Six Sigma.
Understanding Six Sigma
Before you begin your voyage to six sigma black belt certification, it becomes important to understand what Six Sigma actually is. Therefore, let's begin.

Six Sigma is a data-driven and statistics-based approach to improve the business process of an organization. The main focus of Six Sigma is to make customer-oriented changes. That is to say, you must have a group of all content customers to help your business to grow.
Besides this, Six Sigma believes that there must be a quality standard in every good that you are selling or every service that you are offering. Further, it helps you find out the barriers that are keeping you away from reaching perfection and also eliminates the same.

Six Sigma Certification Levels
Six Sigma has various certification levels. Thus, Six Sigma professionals exist at every level with a different role to play.
First Six Sigma White Belt:

Firstly, the white belt holds the basic level of certification that deals with the basic Six Sigma concepts. Also, they support change management in an organization.

Second Six Sigma Yellow Belt:

After white belt comes to the yellow belt, wherein, you support project teams on problem-solving tasks.

Third Six Sigma Green Belt:

Subsequently, at this level, you understand advanced analysis and can resolve problems that affect quality. They also help black belts with data collection and analysis.

Fourth Six Sigma Black Belt:

Further, Black belts are experts and agents of change. They generally are the leaders of the project.

Fifth Six Sigma Master Black Belt:
Lastly, this is the highest level of Six Sigma achievement. Here, you shape strategy, develop key metrics, and coach black and green belts.
It is highly important to note that becoming certified requires a high degree of interest and commitment. Therefore, who enjoys the challenge of improving processes and improving results can take part in Six Sigma Black Belt Certification. It is one of the most sought-after Six Sigma Certification. Moreover, the benefits acquired by this certification are well worth the time and effort.
Therefore, let's move on to the exam overview and learn more about the six sigma black belt.

Overview: Six Sigma Black Belt
Six Sigma Black Belt course covers the in-depth understanding of the Six Sigma phases i.e. Define, Measure, Analyze, Improve and Control (DMAIC). Moreover, it focuses on how to maximize customer value while minimizing waste. Six Sigma Black Belt certification helps you obtain a good understanding of the most widely used six sigma tools, techniques and gains a lot of skills to succeed.

Objectives of Six Sigma Black Belt
The basic objective of the Six Sigma Black Belt program is to help participants build problem-solving competence. Moreover, it helps individuals to gather leadership and change management skills with a view to improving projects at their workplace.
Roadmap to Six Sigma Black Belt
Once you have a clear understanding of the six sigma black belt certification, its time you pay heed to the roadmap of the same. Therefore, for your convenience, we have provided the roadmap which will lead you to your ultimate certification. Make sure you go through it rigorously.
Prerequisites for Six Sigma Black Belt
The essential knowledge and skills required for Six Sigma Black Belt includes,
Firstly, you should have a technical and managerial process improvement and innovation skills.
You must understand the mindset of individuals and teams with having the passion to learn system theory.
Then, it requires a good understanding of process improvement tools and methods. Also, you should have good writing and communication skills.
Lastly, you should be able to work within a team and have experience in managing meetings.
Work Experience
Most importantly, the work experience that you have should be in a full time, paid role. As if you have done paid intern, co-op or any other course work, it will not apply as the work experience requirement. A lot of proficiency testing bodies offer certification irrespective of the work-ex making it all the easier for professionals to test their skills.
In general, Six Sigma Black Belt requires you to have two projects completed with a sign-on affidavit or one completed project with a sign on an affidavit. Together with, three years of work experience in one or more areas of the Six Sigma Body of Knowledge will be an add-on.

How long does it take?

The Six Sigma Black Belt certification generally takes 1 to 3 months to prepare for and complete. However, the duration can vary depending on the organization you get your certification through.

The program completely depends on the learner's response. In other words, you can move at whatever speed is comfortable for you. Moreover, if you already have some Six Sigma experience, then you may be able to complete the program faster.

Areas to focus your time
If you really wish to become a black belt professional in the first attempt, then you should have a clear understanding of the key areas which require special attention.
Therefore, to help prepare you for the exam following are the key topics you need to understand.
Process Capability
• First things first, you need to focus your time on process capability studies which determine whether a process is capable of consistently achieving specifications using system design, parameter design, and tolerances.
Inferential Statistics
• Secondly, you should have a basic understanding of statistical theories that involve inference.
Hypothesis Testing
• After that, make sure you have your basics clear with hypothesis testing and how it works.
Simple Linear and Multiple Regression Analysis
• Subsequently, you should have a basic understanding of regression analysis.
Designed Experiments
• Lastly, do not forget to give a view to the basic understanding of the design of experiments and factorial experiments which determines the x and y variables that affect the response.

Who Can Take Benefit from Six Sigma?

You all may be keen to know the individuals that can take benefit from six sigma black belt certification. Therefore, for your consideration, we have listed down the same.
Firstly, professionals who wish to solve business problems using a structured approach can benefit from Six Sigma Black Belt
Secondly, anyone who wants to improve an Organisation's performance
In addition, process improvement team members who wish to carry out improvement projects
Moreover, any progressive management professional who wants to bring change for the better
Further, anyone who wants to build competence that is domain-independent
Last but not the least, professionals who are already a green belt holder
Top Six Sigma Certification Bodies
We will now pin-down some of the most popular certification bodies offering certification in Six Sigma Black Belt.
VSkills – India's Largest Certification Body
Vskills is India's largest Assessment Body which works on the principle to improve the scope for professional certification and academic testing mechanism. Moreover, Vskills Certification helps enrich your profile –
Improving relevance and applicability
Helps to build confidence and self-accomplishment
Improves marketability
Hike in salary
Further improved academic recognition
ASQ ( American Society for Quality)
ASQ provides live, online training which includes lecture, case studies, problem reviews along with test strategies.
IASCC
IASCC is the gateway for those who are curious to learn about Six Sigma and its related certifications.
GreyCampus
It is one of the most optimal training-learning environments which leads to the best results. It makes learning engaging and effective.
Simplilearn
Simplilearn is an online learning platform that provides numerous concepts together in a simple and cohesive package.
Career Opportunities
While you make up your mind to take up six sigma black belt certification, you surely want to learn about currently available jobs for the same. Therefore, in order to ease your learning, we have provided a list of the following:
Firstly, Quality Improvement Specialist
Secondly, Senior Manager
In addition, Senior SQE Manager
Subsequently, Business Process Engineer
Moreover, Senior Procurement Specialist
Further, Business Operations Analyst
Last but not the least, Senior Manager
A breakdown of salaries and the job market for the Six Sigma Black Belt is shown on the table below: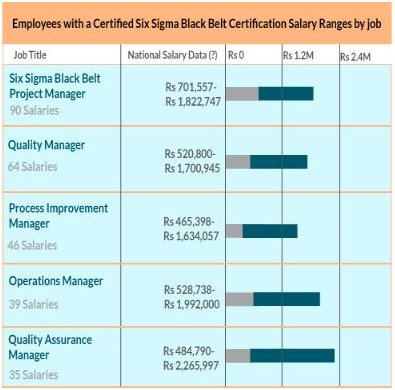 Top Recruiters
Nowadays, many organizations hire Six Sigma Professionals to perform an organization‐wide, full‐scale implementation. Therefore, top-level companies that hire and are looking for Certified Six Sigma Black Belts to fill a variety of positions are:
Oracle India
KPMG
Accenture
TCS
GE
Genpact
Vmware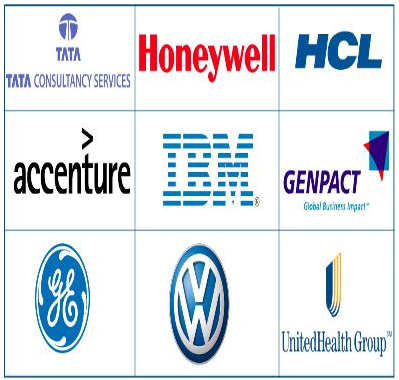 Final Words

In conclusion, you need to remember that passing the Six Sigma Black Belt requires proper preparation and a positive mindset. Moreover, you need to make sure that you arm yourself with the most authentic resources. Remember passing the exam will be the ultimate gateway for your career to blossom. In other words, the ability to add Six Sigma Certification to your resume demonstrates your commitment to improving your business acumen and analytical skills. Therefore, make sure you take advantage of this opportunity.

Are you ready to start your journey to Six Sigma Black Belt? If so, then accelerate your career path with Vskills Six Sigma Black Belt training and become a certified professional now.

All the best!