The technical field is flourishing and is expected to grow more in the coming time. The information technology is one of the fastest and most profitable sector for those who want to pursue their career in the technical field and want to enter the corporate world. Software Testing is therefore referred as the backbone of any IT product, Services Company and software testing scope is increasing everyday. Its industry size is estimated about USD $13 billion globally and is one of the biggest recruiters and job creators around the world. One needs to have specialization in the field in order to get hired.
Professionally trained software testers are in great demand these days and are sought after career in the industry. One can either become part of an independent software testing company or join an internal software testing department in a leading firm. The growth prospects in the Software Testing domain are tremendous. As per statistics, this industry will be worth $50 million with forecasted CAGR of 14% through 2014.
Moreover, these software testers are paid good salaries, depending upon their level of experience. Testers are paid as equal to developers in most companies, and in the case of some smaller firms, they may even get paid more than the developers. Therefore, looking at the great demand of these professionals it is important to be aware of all the career prospects and job opportunities this field holds for you. So, we've prepared this informative blog to specially guide our global audience regarding the future scope and career opportunities of software testing in the year 2022.
Roles and Responsibilities of Software Testing Professional
Some of the major roles and responsibilities of these professionals are listed below:
Reviewing software requirements and preparing test scenarios.
Executing tests on software usability.
Analyzing test results on database impacts, errors or bugs, and usability.
Preparing reports on all aspects related to the software testing and reporting to the design team.
Work with software developers and project support teams.
Carrying out stress testing, performance testing, functional testing, and scalability testing.
Monitor applications and software systems.
Qualifications required to become a Software Testing Professional
Software testing, being a technical field requires qualifications in the same domain. A B. Tech/ B. E., MCA, BCA (Bachelor of Computer Applications), B.Sc. Computers, will land you into a job fast. In case you do not have any of these degrees, then you must complete a software testing certification like ISTQB and CSTE which help you learn about software development and other testing methodologies.
Skills required to become a Software Testing Professional
Below are some of the interesting skillsets required by such software testing professionals and these will make your journey easy and steady. Some of the skills are:
Basic knowledge of Database/ SQL.
Knowledge and hands-on experience of any Defect Tracking tool.
Basic knowledge of Linux commands.
Knowledge and hands-on experience of Automation tools.
Knowledge and hands-on experience of a Test Management Tool.
Learning outcomes of Software Testing
Some of the learning outcomes you'll encounter as a Software Testing Professional are listed below:
Enhances understanding of fundamental principles and global standards of testing.
Exhibits proven analytical ability.
Delivers global recognition of your status as a test professional.
Excellent route into the rapidly growing field of agile testing.
Employees increase their significance to the business having acquired practical and analytical skills.
Career Opportunities in Software Testing
In recent times, software testing has become a very flourishing career for many people. The career options available in software testing is very vast and diverse. Like, you can choose to become a test manager, senior testing manager, QA manager, and many more. Professionally qualified software testers are in huge demand nowadays and are sought after in the industry. One can either become part of an autonomous software testing company or join an internal software testing department in a leading firm. Therefore, let's discuss some of the career opportunities in the field of software testing.
1. Junior Software Tester / QA Engineer
According to statistics, the employment of quality assurance analysts is projected to grow 22 percent by 2029. This shows that these professionals are in great demand these days along with quality assurance analysts, software developers, and testers. Moreover, these professionals ensures that the software passes all checks before its discharged to the public. They also control every phase of design, development, testing and delivery to confirm if the product meets the quality standards, and they work with a team and report to a manager.
Average Salary: INR 5.2 Lakhs per annum
2. Senior Software Tester / Senior QA Engineer
This is a well-paying job that manages the activities of the quality assurance staff for software and product design companies. Their major job is to supervise the production of test documents, the creation of test procedures, and to provide the successful deployment of company products. Moreover, this position is majorly acquired by experienced candidates.
Average Salary: INR 11 Lakhs per annum
3. Test Architect
These professionals are basically hired by companies that put a lot of emphasis on testing automation and technology. You are expected to have deep understanding and technical expertise as well as current knowledge of the latest tools and technologies. If you're looking for a complete technical job then this might be the best career option for you.
Average Salary: INR 19 Lakhs per annum
4. QA Lead / Test Lead
These professionals holds a very important position in the company as they establish QA processes and procedures and then manage the testing of a product or a service. Moreover, with its fast-growing number of resources and demand in the industry, quality assurance is becoming an attractive career path for many. Therefore, thinking of building a career in this field will definitely benefit you a lot.
Average Salary: INR 12 Lakhs per annum
5. Quality Lead
This is the highest position in the quality department. The Quality lead is in charge of all the aspects of quality assurance for a company. This role requires both technical and managerial abilities. This role requires many years of experience and a conventional track record of effectively managing numerous teams, ventures, and services. Therefore, you can reach up to such high position with consistency.
Average Salary: INR 12.6 Lakhs per annum
Now, let's have a look at the salary background of a software testing professional. A software tester's pay varies depending on the organisation as well as the number of years of experience you have. It is very easy to figure out that the average salary package of a software testing professional is between Rs 247,315 – Rs 449,111. Also, a software tester is given health insurance, bonuses, gratuity and other perks.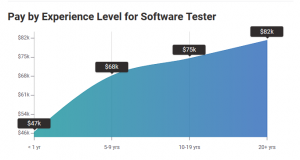 Career Path to Follow
The demand for these professionals is increasing every day and companies are in search for highly qualified as well as good testers who can be fruitful for the development of the company. Certified Software Testing Professional may find employment in all kind of companies American Express, HCL, Tata Consultancy Services Ltd, Capgemini, IBM services, Samsung Labs. This is one of the blooming field in IT sector and can help you fetch good fortune. Moreover, the basic query that always pop-up in our mind is from where to start?
Therefore, to solve this problem we are providing you with the best online certification courses on the web. Vskills is offering Certified Software Testing Professional online certification course that will help you begin your career in this field and will give you a clear idea of the topics that need to be covered. The best part is that this certification is recognised by the Government of India so this will add value to your resume as well. We would also like to wish you all the best for your career. Happy Learning!