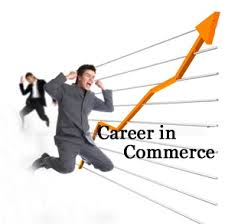 After passing 12th in commerce stream. First you must make a choice between a teaching or non teaching field right from  the beginning. You should choose the teaching field if you have at least 50% marks. Choose this field if you like reading & Sharing.
Teaching Field- For this,first do 2 year diploma in Elementary Education as per NCTE or do 4 year Bachelor of Elementary Education ( B.El.ED) and pass Central Teacher Eligibility Test ( CTET). This will lead to a teaching field.
Non- Teaching Field- If you want to make career in accounting field do CA/CMA or CS to to become Company secretary. Opt this course only if you are good at your studies  otherwise it will waste your time & Money. The main difference between Commerce or Science or Arts subject is that almost all the course of science and arts generally passed & completed by the students. If you got admission to doctor or engineer course, it is 99% surety you will pass and complete in time but if you do top commerce course CA/CMA/CS, there is a 50% surety that you will pass and complete these on time.
If you wish to become an advocate then you should do BA-LLB or B.Com-LLB. If you are interested in making career in hotel industry then do HM. If you desire to make a career in Management then do BBA. You can also make career in Computer software & Hardware by doing BCA  & Hardware & Network engineering.
There are a lot of vocational and Job oriented courses in which you can take admission and make yourself ready for the job or can start your small business. You can become an LIC agent, Aadhaar card operator , RTI Activists, Social Activist , Politician etc.
At last but not least first try to get admission in Govt. Institution, if could not get then try in private Institution. Stress on balancing between theory & application. "Don't forget to hard work & be  honest with your education or job or profession or business with keeping  good people around you &  keeping bad people at one arms length."