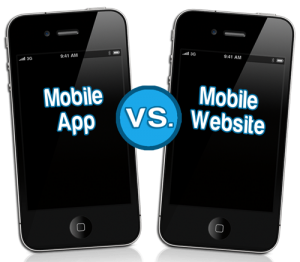 Website or mobile apps development?
As a developer we are always in a dilemma which field has more scope in future.
No doubt websites is an evergreen source of information but mobile apps are trending these days.So breaking out developer dilemma over website or mobile apps development, If you are preparing for future market than go for app development because mobile app showed a hike in their  demand in a recent survey.
In coming years users will switch to mobile apps of websites they use in day to day life. So developers must brush up their mobile app development skills if they want to survive in future competitive market.
Mobile is within reach of all of us and one prefers to use app over traditional website.No doubt websites will still be there in future but market will require more mobile apps developers than traditional website developers in the coming future. So if one is going in field of development and have to choose between website and mobile apps then I will suggest to focus on mobile app development. Whether its an android, windows or IOS, mobile app developers will surely be demanded in future market.
Click here for government certification in Mobile Application Development