Vskills collaborates with E-cell, St. Xavier's College, Mumbai for supporting the various student initiative being undertaken by the e-cell at St. Xavier's College, Mumbai.
Vskills has been on forefront of skilling the youth to make them job ready and be a platform in their career progress. Students at St. Xavier's College, Mumbai have placed their trust in Vskills certifications for not only assessing their skills but also achieve success in their future careers.
Vskills initiative highlights the immense benefits the students of St. Xavier's College, Mumbai will accrue certifying their skills. The initiative also helps in increasing the relevance of assessment and continuous skills enhancement for student community, at large.
The eventure program of the E-cell, St. Xavier's College, Mumbai has been well received on social media websites like Instagram and Facebook.
About Vskills
Vskills is a assessment and certification program.
Companies have benefited by hiring pre-certified candidates from Vskills and also use the certifications for their in house employee appraisals. The certification body is affiliated to various organizations and is managed professionally by IIM Alumni.
Tests are conducted in a secure and unbiased manner, and certificates are awarded based on merit of the candidates who qualify tests.
Vskills certifications are for relevant qualifications that help students/employees quantify and prove those skills that are valued by the employer and are in great demand.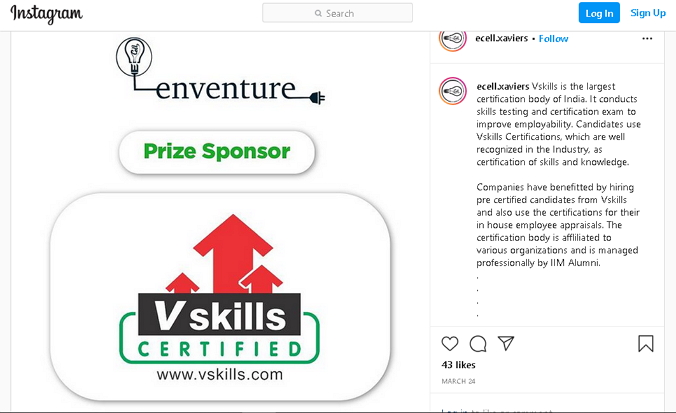 About St. Xavier's College, Mumbai
St. Xavier's College, Mumbai, is a college affiliated with the University of Mumbai offering undergraduate and postgraduate degrees in Arts, Science, Commerce and Management. Xavier's was the first college to be granted autonomy by the University of Mumbai in 2010. In 2006, St. Xavier's was awarded the highest 'A+' grade by National Assessment and Accreditation Council (NAAC).
The college is named after Francis Xavier, the 16th-century Spanish Jesuit saint. Its campus in South Mumbai is built in the Indo-Gothic style of architecture, and recognized as a heritage structure. It began as an arts college, by the 1920s science departments were established. The college was greatly expanded in the 1930s.
The college offers undergraduate and post-graduate courses in Arts, Science, Business, Commerce or Public Policy.