The problem of illiteracy – How India needs to address education to press ahead.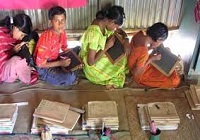 In the matter of literacy in India continues to be one of the most backward nations of the world.Till about fifteen years ago, the percentage of literacy in the country was very low. India's economic and social backwardness is bound to persist , unless speedy measures are adopted to spread literacy among the masses.
There is a lot of noise and propaganda about the removal of illiteracy. The congress and other political parties have been pressing a prominent place for literacy in the development plans.The need of education is stressed both from the press and the platform. No political or social leader makes a speech without referring to this topic and appealing to his countrymen to tackle this problem. But the result of this publicity is far from satisfactory. Adequate provision for the speed of literacy and education has not been yet. If the percentage of literacy could be raised from 10 to 20 in about fifteen years ,then it would take fifty years to achieve hundred percent literacy in the country. Surely we cannot feel happy about such slow progress.
Several difficulties stand in the way of spreading literacy. One of them is the villager's indifference to it. Literacy does not seem to have any utility or him and hence, he does not feel enthusiastic about it. Generally village boys do not like to remain in villages when they get educated and their desire to seek jobs and migrate to town , creates new problems to the villager. Uneducated children help him in cultivation , but educated ones run away to towns. Hence the prejudice against education.
This prejudice can be removed only in two ways. In the first place, if the villages are developed and educated people can obtain work there, the incentive to move to the town would disappear. Secondly, if special provision is made for instruction in agriculture for village students, they will like to utilize their knowledge on their own fields , rather than seek their fortune in urban areas.
Another difficulty is that large number of village people lapse into illiteracy, even if they receive some education in the beginning. Thus their time and labor are wasted. A comprehensive scheme should be drawn up to ensure that the villager preserves the knowledge of the three Rs which he receives in the primary schools. One of the means to attain this end is to set up small libraries containing simple books on various subjects , particularly agriculture and horticulture. Newspapers and magazines should be supplied in libraries. A system of circulating libraries and occasional lecture tours by teachers on current topics would prove an additional help in this direction.
The task of removing illiteracy ultimately rests with the government, which aims to create a welfare state. Since taxation is being increased in several directions and loans are being taken from the public,the average citizen rightly feels that it is the duty of the state to provide for education and literacy also. A well thought out plan has to be drawn up by government in this sphere and it should utilize all its agencies, including student, teachers, philanthropists, libraries, documentary films, radios etc., for removing the curse of illiteracy from the land.
Click here for government certification in Accounting, Banking & Finance