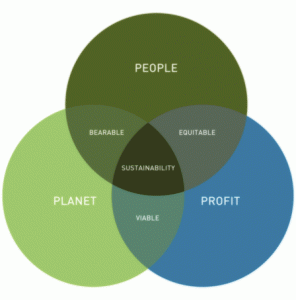 Sustainability and technology are two very closely related terms and both of them have a very crucial effect on society and the scope of implementing one's own idea can be efficiently explored by entrepreneurial practices. With this paper, a consistent effort has been made to express social entrepreneurship as a stepping stone towards the attainment of social goals and to assure sustainable development. The scope of sustainable engineering as well as green technology being an added factor for the same has also been explored.
Improvement is the sole purpose of our existence. Every human being wants to uplift his standard of living and enhance his scope of development. But in order to move towards a prosperous future, one must encounter several problems in the form of resource deprivation, natural calamities, societal drawbacks, inefficient government policies and many more. Henceforth, despite of all the prevailing obstacles, we strive towards a sustainable future, keeping all the factors in close consideration. Sustainability is our key to quality development. It can be further classified into various categories. The important forms of Sustainability are
Environmental Sustainability, Economic sustainability and Social Sustainability. Though all the three categories look entirely distinguishable, they are interrelated and can be mapped into each other's domain for the matter of convenience in terms of research and development. Environmental sustainability is the one the fastest growing domain which has a major focus on conserving environment to shape a better future.
An urgent action is required when the things you regard highly are under threat of loss or destruction. Henceforth, Social Entrepreneurship can be the solution to our problems.
Social Sustainability and Economic Sustainability are deeply attached to Environmental Sustainability. We as human beings cannot imagine a world devoid of physical environment.
We are totally dependent on the various forms of environmental resources (natural or man-made) in numerous ways. Consequently, attaining environmental sustainability helps in contributing to the overall progress of people and their society, thereby leads to social sustainability. The viability of economy clearly depends on environmental resources and service flows, so economic sustainability depends on environmental sustainability as well. Let us take an example of hydro power plant for analysis. When a plant is setup, it utilizes the most important natural resource which is water as its basic raw material. Then under proper utilization of different resources and man-made technologies, the plant is constructed and it starts functioning. This plant not only helps the people to use electricity but also provides employment, and helps the society to modernize and develop. Also setting up a power plant enhances the economy and boosts the financial growth of a country. Thus, through this example it is clear that sustainability is the solution for complete growth in every dimension of our life