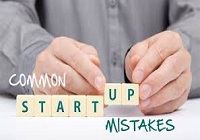 Going from start-up to business success is a rocky road with landmines, there's always a good chance that a start-up will fail. In fact, recent research shows about 70% of entrepreneurial ventures fail.
Whatever a company's flaw may be, you can avoid those most common mistakes before starting up a business. Here are six pitfalls to look out for:
When you've got a killer idea, it's natural to want to introduce it to the world. But the longer you take to set your boat in motion, the longer you go without money coming in. We of all entrepreneurs want to believe that no one else has ever thought of our idea, and then most people shelter their little gem. But the reality is, first rest assured whatever your idea is, it's been thought of before. Secondly, an idea is not your business but everything which comes after that makes a business happen, execution of business will also be contradictory or dissimilar which depends on an entrepreneur's personal perception. Third, while inaugurating business you're going to share things with more experienced professionals in order to make your business work, so stop guarding your idea- be open about it.
One of the most common mistakes entrepreneurs make is to 'go light on marketing strategies'. As it means communicating to our customers through various means, it requires a lot of time to even gain slight momentum. Another myth is social media is an authentic source for attracting consumers, but to do it properly various strategies have to be set. Entrepreneurs follow a monotonous idea to market their goods which also is a reason behind failure of a start-up. It's a famous saying that any entrepreneur who plans his/her business before making their marketing strategy is injudicious.
Also many start-ups are not sure of the money to budget for marketing, for them it's quite suitable to spend 10-20% of gross revenue. Marketing has to be done conventionally, as it being a crucial step in businesses.
Many start-ups have difficulty finding a focus, there's always a lot going on in business with day to day decision making. As an entrepreneur settling on a particular focus is a critical task but it has to be done, no matter how much distracted you get by everyday activities – one has to hold tight to that big idea.
Usually entrepreneurs come up with hundred ideas everyday and have second thoughts for their original work which becomes a major conundrum. With limited resources they try new things, when they already have one thing working but this sometimes leads to lots of exhaustion.
Recommendation is to work hard, double or triple the efforts in one field.
Pricing of a product is a crucial factor and involves careful attention as customers are price sensitive. This is very much an intricate process and is to be done by taking the competitors product in consideration, – many entrepreneurs say they want to offer the best price. Is it the lowest price for their customer?, the price that will provide the best value for their customer?, the price that will result in the highest profit for the company? So an entrepreneur must figure out the price to charge and profitability that results.
The owners should do a cost benefit analysis every time in business. Also don't assume of price as all.
Economizing on attorneys and consultants:
It is no secret that litigation is time consuming and expensive but business owners always ask for ways to reduce the litigation fees. Businesses rely on their personal resources but turning to an attorney could save a lot of agitation or inconvenience. Failing to hire a lawyer when starting a business can result in otherwise avoidable pitfalls. Making relations with lawyers can solve a lot of problems for future growth also as they render a lot of over the phone consultancy.
The law is complicated so skimping on a lawyer or consultant is not a good idea, as they are more experienced and strike up good settlements for businesses.
It is quite often said – entrepreneurs should always be hiring. But companies take time in deciding which candidate would be suitable for a new firm, because hiring a wrong person can have a deleterious impact to a company's morale and productivity. One thing companies do is to hire those who don't understand the vision of the business, a start-up can't afford such mistakes.
In a start-up always make sure that new hires understand the rate of innovation, you have a high rate of growth with that comes the work. Another problem for ventures is the decent salaries to be paid to employees to retain a great set of competent people. So before hiring know what you want and try to make a personal connection with hires.