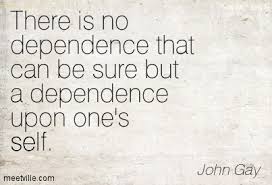 We always have a habit of taking help for each and every work or activity which we do in day to day life and it does not bother us at all of why we take help from others, why we require someone else help when we can do the same work by ourselves.
Self Dependency doesn't happen overnight as it takes time for us to get into the groove of self reliance. Self Dependency is important as it helps us to overcome the problem of dependency which we have on others for doing each and every work. As Mahatma Gandhi always emphasized on Self Dependency and proclaimed that dependency on others is a sin.
Self Dependency is really important as it is one of the main aspect of the Personality Development of Human Beings. It makes us strong willed and determined person, it makes us feel that we can do anything in the world on our own terms and for that we won't require the help of anyone. It makes us belief on our skills and knowledge which helps us to build our self confidence.
Self Dependency can also help in the development of the country's economy. If our Country achieves Self Dependency, it will reduce our dependency on other countries over defense equipments, latest gadgets etc and will make us more innovative and creative. Moreover if we try to develop latest technologies than it will lead in the reduction of prices in the economy as it will reduce our dependency on imports.
Moreover our Image in the global market will improve and we will be looked as one of the growing powerhouse on world's economy.
With That I conclude my article by stating that Self Dependency is not an habit but it is required in order to achieve self efficiency as well as effectiveness of doing variety of works and reduce our dependency on others.