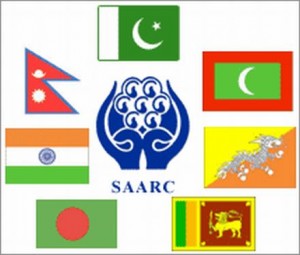 SAARC stands for south Asian association for regional cooperation.It was established when its charter was finally adopted on 8 December 1985 by the head of state or government of Bangladesh, Bhutan, India, Maldives, Nepal, Pakistan and Sri Lanka.
The association provides platform for the people of south east Asia to work together in spirit of friendship trust and understanding. It also aims to promote welfare of the people and improve quality of life through accelerated economic growth,social progress and cultural development in the regions .
Summits are the highest authority in SAARC and are to be held annually. The council of ministers comprising foreign minister meets at least twice a year with the main aim of formulating policy,reviewing progress of regional cooperation, identifying new areas of cooperation etc. The governers of central banks of member state under auspices of SAARC FINANCE meet regularly to consider cooperation in financial matters.
The intra SAARC trade hovers around 4%-5% of the total trade of SAARC countries despite their rich potential.