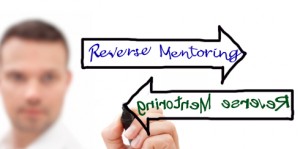 Reverse mentoring is a process that reverses traditional mentoring by pairing younger staff to mentor senior leaders – a concept that provides the senior leader insights through the empowerment of younger employees who otherwise may not have the opportunity, or confidence, to share.
It has become imperative to constantly redesign the existing framework of any organization to fuel strategic business capabilities. Kimberly Clark has taken the lead in experimenting this new method. Naomi Montaerio , VP HR speaks that reverse mentoring programme is tailored to help executives tap strategic product, customer and technological insights that younger talent naturally possesses, but rarely has the opportunity to share.
It also breaks down the traditional barriers of top-down hierarchy in the workplace to promote a healthy, free-flowing exchange of ideas.