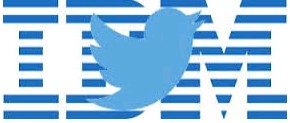 Twitter and IBM announced a significant partnership that will involve Twitter sharing its data with IBM for integration into IBM's enterprise solutions, including the Watson cloud platform.Twitter CEO Dick Costolo and IBM CEO Ginni Rometty worked personally together on the deal, Rometty said in an IBM conference that announced the collaboration deal.
This collaboration will focus primarily on three areas:
Integration of twitter data with IBM analytics services on the cloud:IBM plans to offer Twitter data as part of select cloud-based services, including IBM Watson Analytics, a new cognitive service in the palm of your hand that brings intuitive visualization and predictive capabilities to business users; and a cloud-based data refinery service that enables application developers to embed data services in applications. Entrepreneurs and software developers will also be able to integrate Twitter data into new cloud services they are building with IBM's Watson Developer Cloud or IBM Bluemix platform-as-a-service.
New data-intensive capability for the enterprise:IBM and Twitter will deliver a set of enterprise applications to help improve business decisions across industries and professions. IBM will be developing new apps for the enterprise that make use of Twitter data. The first one is an app that helps companies better engage their customers over Twitter.
Specialized enterprise consulting: IBM Global Business Services professionals will have access to Twitter data to enrich consulting services for clients across business. Additionally, IBM and Twitter will collaborate to develop unique solutions for specific industries such as banking, consumer products, retail, and travel and transportation.
click here for government certification in Information Technology