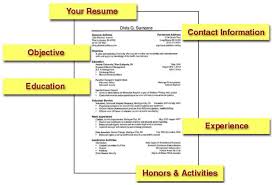 There is an format which should be followed while preparing your resume.
On the top left side mention your Address.
On the top right you can place  your photo (photo should be clicked in formals) some organization may not need your photo to be on resume so this is optional.
On the top middle mention your Name with contact number and email id .
Start your resume with career objective which should not be more than 2 sentences try to keep it original and not copy pasted from Google.
Follow objective  by work experience in which you can include details about your summer internship  if any.
Mention your Academic qualification after your experience.
Mention any skills which you have .eg. Microsoft excel,typing ,language etc.
Then mention your extra curriculum activities ,achievements and awards also mention the level (state,national and international)
Do not mention I hereby declaration sentence in your resume.
This is the format to be followed while preparing your resume.