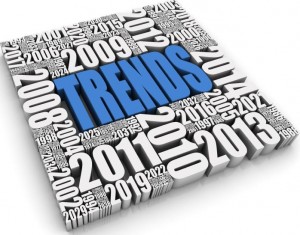 Recruitment can be defined as the process of generating a pool of candidates for a job. It is a kind process whereby the prospective candidates for a job are sourced and informed about it so as to attract their attention to it. The aim of this process is to have a large number of applications for a job out of which the suitable candidates could be chosen.
Various ways have been used in the past for recruitment. Advertisement in newspapers has been the most common way of recruitment in the past both in public and private sector. Now-a-days technology has changed the scenario drastically. The methods of conveyance of information have changed to a great extent. This thing has impacted the recruitment also. The changing needs of corporate sector due to globalization, frequently changing consumer demands, increase in the level of awareness of employees etc. have also impacted the process of recruitment. In the following paragraphs have been mentioned a few such recent trends in recruitment.
The Employee Referral Program (ERP) is one of the latest trends which is emerging fast. Some organizations believe that the existing employees understand their job very well. They also have links in outside world with the people belonging to the same profession. Employees recruited through referral program not only reduce the cost of recruitment but also help in motivating the workforce. The existing employees feel motivated because they are able to secure job for their known people and also get bonus from the organization. The new employees would also be motivated to work with the people they already know. The Blue Ambassador Employee Referral program of IBM is one such good example. Seventy percent of IBM's hiring is done through internal sources. In eighty percent of the total cases of successful hiring through referral employees bonus is paid on the completion of 90 days service of the referred employee. They are also considered to be faster than other channels. Aircel's Chief Human Resource Officer says " employee referrals work faster than consultants". The cost associated with them is also far lesser. The retention rate of employees employed through employee referral program is also higher in comparison to other sources.
Social media is also emerging as one of the latest trends in recruitment. As per the statement of Irfan Abdulla, head of hiring solutions at linkedIn, an average Indian company has about 70 percent of its employees on LinkedIn and even more percentage is available on Facebook. Now –a –days some of the companies are closely monitoring the activity of current, prospective and even past employees on the social media. This gives them an insight about the personality and skill set of the candidate to a certain extent which helps them in making decisions regarding recruitment. As per the survey of Microsoft Research and the Reppler Company, 7 in 10 recruiters have disqualified job applicants after finding some objectionable material on the social media. Following graph shows the increasing importance of direct hiring channels such as Facebook, LinkedIn, Twitter, company websites and employee referrals.
Globally, some of the companies like Salesforce even upload the video description of the Job directly from the manager's mouth on youtube. They even have a dedicated playlist for this. Dell India also makes the extensive use of the social media for recruitment. According to Savneet Shergill, head, talent acquisition, they regularly post job openings on LinkedIn. It also uses Careers at Dell Facebook page to disseminate career related information to the prospective candidates.
Outsourcing of the HR functions has been in vogue for quite some time. These days Recruitment Process Outsourcing is gaining prominence. Outsourcing firms create a wide pool of candidates for the organizations from which they can select the appropriate candidates. This service given by the outsourcing firms relieves the companies from doing a human resource planning much in advance. Pontoon Solutions is a major in RPO in terms of scale, flexibility, size, customer service. The client engagements by Pontoon solutions accounted for more than 73000 hires in 2012. They provide RPO services in various industries like Healthcare, information Technology, financial services, Pharmaceutical etc. Pinstripe Inc. is the example of another major player in this field.
While going for RPO companies should be careful in choosing the outsourcing firms. Sometimes some firms use the responses to the request of the company to serve the requests of the company's rivals. While going for RPO companies should also consider the fact whether requirements are standardized or organizational specific and which activity to outsource and which not to. Following shown table can help in taking this decision
| | | |
| --- | --- | --- |
| Activity | Standardized Requirement | Organization Specific Requirement |
| Inviting Applications | Inhouse | Outsource |
| Screening and Shortlisting | Outsource | Outsource |
| Interviewing | Inhouse | Inhouse |
| Reference Checks | Outsource | Outsource |
Networking mainly involving HR personnel also helps a lot in sourcing the right candidates. Sometimes HR personnel even in rival companies network with each other so that they could help each other in sourcing the right candidates at right time.
We can conclude by saying that recent trends like Employee Referral Programs, Recruitment Process Outsourcing, Social Media etc are some of the methods which are making inroads into recruitment very fast. More change is likely to come in recruitment process even at a faster rate considering the ever changing nature of technology and global trends. Companies should be cautious while choosing a particular recruitment method.
References:-
http://www.coolavenues.com/hr-zone/blue-ambassador%3A-employee-referral-programme-@-ibm
http://www.business-standard.com/article/specials/hiring-3-0-112101500069_1.html
http://www.ere.net/2013/12/09/the-top-25-recruiting-trends-problems-and-opportunities-for-2014-part-1-of-2/
http://www.business-standard.com/article/management/referral-hiring-can-bring-down-hiring-costs-for-india-inc-113072100620_1.html
Social Networks, Referrals are India Inc's Hiring Hotspots
Outsourcing Recruitment by Padmaja Palekar
HeadHunters Court tricky Mandates in Economic Times