Programming – 5 languages that are popular with programmers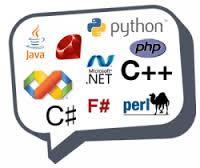 In the previous article we talked about programming languages in which I gave a description of programming languages.now its time to know about the top programming languages, their syntax and how they are used. So beginning with my favorite language that is Java.
1: JAVA
Java is considered as the most popular language in computer world as it is used for many purposes like building server-side applications for games, it's the core foundation for the development of android and its applications also it is portable. And if you remember the phones we used to have that were not smartphones, had applications which ran on java, whenever we used to open those applications a logo of java used to appear on the screen.
2. C/C++
Another cool language is c/c++, they are two languages but still the same, as the name tells everything that c++ is an extended version of C is a machine language and c++ is beside an object-oriented language too but not purely. Pure object-oriented language is only java. You can read about Object oriented programming(OOP) on internet because I'll not be explaining about this in this article. C/C++ is an easy language and the basic language, it is also called as an A,B,C,D of all languages. This language is not used much for good-looking applications and creative things as it is only stick to hardware programming.
3. PYTHON
Another language, python, is using now a days. It is derived from c++ as I said earlier, c++ is the base of all languages. Python is free from the boundaries of syntax, it does not need rules to follow or can say it has a straight forward syntax, you can directly enter the required logic. Python is generally used for developing web-apps.
4.RUBY
Ruby( also known as ruby on rails ) is a major supplier of web apps and it's very popular due to its ease of learning, it's very straight forward and powerful. This language is in very high demand these days.
5. JAVASCRIPT
JavaScript( not to be confused with java,its very different) another popular language is used for developing websites, make a website more interactive. In this, a library called jQuery is used to make JavaScript work more easily.