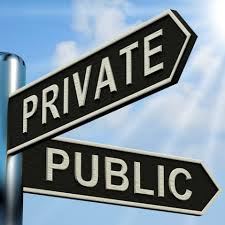 Recently, there is a rapidly developing notion that private schools are superior to government schools. . But, is this perception true? Is complete privatization of the education sector the only solution to schooling in India?
The mismanagement and lethargy of most public schools, which account for 80 percent of the India's education system today, calls for privatization of schools. In an overpopulated country like India, the government cannot provide enough number of schools and hence allowing the private sector to step in is an inevitable step. In public schools, teachers are less liable to impart quality education due to the job security provided by the government. However, a strict code is followed by the school administration and management in private schools thereby, effectively controlling the teaching staff. In recent times, it has been seen that the standard of education that students get from private schools is invariably much higher than in comparison to governmental schools, barring a few exceptions. Most private schools have better infrastructural and technological facilities. Apart from providing conventional education, private institutions also focus on developing a child's vocational skills providing them with a plethora of extra-curricular and sports opportunities.
While on one side we see why privatization of schools is essential for our country, it is also important to see the other side and understand why it is not.The annual fee charged by private schools is so high that even middle class families find it very difficult to afford it let alone the poor families. Hence affordable education at government schools gives some of the economically weaker sections of the society a chance to gain education and do well in life. There is no reason for these private schools to quote such an exorbitant price for education because most government schools have equally good standards.Though they do not have any extravagant facilities like AC's and stylish canteens, it is not a negative point but a boon for them as students are not exposed to such luxuries at any early age. Government schools have the best faculty as most teachers prefer to join a government institution because of the excellent pay, job security and pension. This is the reason why government schools students do so well in competitive examinations like IIT-JEE.
Thus while privatization has benefited the quality of schools, public schools have their own important role to play and steps must be taken to improve the quality of the existing government schools.
Click here for government certification in Accounting, Banking & Finance