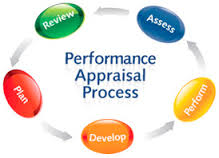 Performance Appraisal is a systematic evaluation of an individual with respect to performance on the job and individual's potential for development. It is a part of human resource management. Performance appraisals are a part of career development and consist of regular reviews of employee performance.
Performance Appraisal is the assessment of individual's performance in a systematic way. It is a developmental tool used for all round development of the employee and the organization. The performance is measured against such factors as job knowledge, quality and quantity of output, initiative, leadership abilities, supervision, dependability, co-operation, judgment, versatility and health. Assessment should be confined to past as well as potential performance also.
Appraising the performance or getting a review of employees performance can be done through  Formal annual performance appraisals , Probationary reviews , Informal one-to-one review discussions , Counseling meetings  , Observation on the job , Skill- or job-related tests , Assignment or task followed by review, Psychometric tests and other behavioural  assessments.
The performance appraisal can help during promotions, training and developments, compensation reviews, competency building, improving communication, evaluation of HR programs.
Historically, Performance appraisal has been conducted annually (long-cycle appraisals) , however, many companies are moving towards shorter cycles (every six months or every quarter), and some have been moving into short-cycle (weekly) as it provides a detailed review of an employee and what measures in all to be taken for their development or as to take any disciplinary actions.
Performance appraisals of all types are effective if they are conducted properly, and better still if the appraisal process is clearly explained to, agreed by, the people involved. Managers need guidance, training and encouragement in how to conduct appraisals properly.
Performance appraisals are important for staff motivation as well as help in goal setting by matching the individual workers goal and performance with organisational goals.
Holding regular informal one-to-one review meetings greatly reduces the pressure and time required for the annual formal appraisal meeting. Hence performance appraisal is very necessary for an organization and should be conducted timely.
Click here for government certification in Human Resources