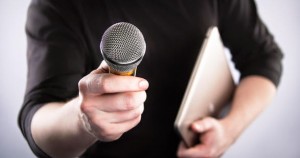 In a parliamentary democracy, the roll of the press is of paramount supremacy, since it is the main link of communication between the parliament and the citizens.
Parliamentary reporting has two main aspects –
Recording the proceedings: The appointed Stenographer of the house is responsible for taking down the minutes of the debates in the House. S/he should not miss a single word of any of the speakers. These records are then compiled together. Since this is a tedious job, reporters record the proceedings singly in turns of 5 minutes each.
Reporting the proceedings in press: The journalists covering the day's proceedings have to crisply sum up the main debates for their news organisations without omitting any important detail. The readers do not have the patience to go through each and every detail of the mundane deliberations and discussions. Therefore, it is the reporter's job to make the report reader friendly. This is a huge responsibility since they report the businesses of the parliament for the citizens of the country, thereby creating the perception of the parliament for them.
Parliamentary reporting in India dates back to 1777, when matters of law were recorded in the revenue department of the East India Company.
Post independence, our Constitution retained most of the laws from the House of Commons in Britain for the Indian legislature.
The press reporters are allowed to attend the proceedings, but can have their Press cards withdrawn if they are found guilty of contempt, indulging in personal attacks against MPs, using abusive or vulgar language.
Reporters should also refrain from commenting on the characters of MPs outside of the Parliament, or in a way that might disrupt the proceedings.
Here are a few things parliamentary reporters should bear in mind:
They should be good at shorthand.
They should have a sound understanding of the language used in legislature and of basics of Indian politics
Should have a strong GK
Should have a basic idea about the policies pursued by the government
Should not let their personal opinions come in the way of reporting