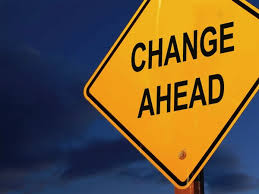 The world is not the same as it was 10 years ago. And we can be sure that it won't be the same 10 years from now. A lot has changed- science, act, literature, even the markets and industry. What drives these changes is an endless urge to push the wheel of life ahead every passing second. But if the world is demanding better education, healthcare, science, art and economy, is it in need of a better HR too?
That's more of a rhetorical question. We are so deep in the abyss of change that HR couldn't escape. What most of us do not know is that there is an aspect of HR industry called "CHANGE MANAGEMENT" that deals specifically with this. Why do you think all blue chip companies are in flux- thinking and rethinking their strategies?
Well, changes can happen due to any number of reasons- fluctuations in market share, major economic boost/downfall, technological advancements, industrial pressure like mergers and acquisitions and customer pressure etc. During all these situations and the ones not mentioned, the organisation needs to adjust and adapt very carefully, accepting some and rejecting the others. It is not an easy task but it's definitely a major thrust in the positive direction if handled well.
What this aspect demands is a careful analysis and you can never be too careful with data so pay close attention to the slightest change in trends. Get the first mover advantage. Change is important as well as inevitable but with the right leadership qualities, quick thinking and swift movements, you can easily make your company the trendsetter. And for that, all you need is a dedicated team, confidence and a good change management framework. See to it that the employees remain motivated and are delivering dynamic services to the customers.
Radical changes give a scare but you can become a pioneer with a little bit of luck and a lot of work.