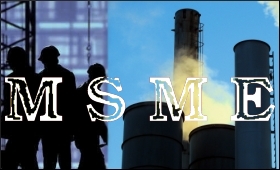 Finance is so very important for the profitable survival of our small industries which is why the Indian banking sector is coming forward to meet the fund requirements of MSMEs.We all know that the role of of micro,small and medium enterprises in social and economic progress of the country is immense.This sector contributes 8% of the country's GDP,provides employment to 60 million people and it even has more even geographical distribution.They are important to achieve an equitable and inclusive growth ,that is,growth for all.
Banks have always been a support to MSME.Through the policies of government and RBI,banks have made loan availability to this sector easy in many ways-shorter time in providing loans,easy and user friendly loan applications,adherence to fair practise code,competitive interest rates,single window finance for loans e.t.c. Banks also provide specialised services to MSMEs like a quick grievance redressal mechanism for all branches and offices to completely satisfy all the customers.Some banks worth mentioning in this regard are Laxmi Vilas Bank and TMB.
Apart from this,it has been advised to the public sector banks that they should open atleast one specialized branch having 60% or more of their advances to MSMEs.These banks will be responsible to provide better services to this sector.
According to the 2010 report on MSMEs by the Prime Minister's Task Force,banks will have to increase their credit providing capacity to MSMEs by 20% every year,the micro enterprises accounts with them by 10% annually and allocate 60% of MSE advances to this sector.RBI and GOI will constantly monitor whether these requirements are being fulfilled by the banks or not.Moreover,GOI has started Credit Guarantee Fund Scheme for MSMEs to provide them with collateral free credit.RBI has also issued mandatory guidelines in this regard for a loan upto Rs. 10 lakhs by this sector.
These are only a few ways in which the banks are helping the MSMEs.It is envisioned there will be a phenomenal growth in this sector with a large number of enterprises.
Click here for government certification in Accounting, Banking & Finance