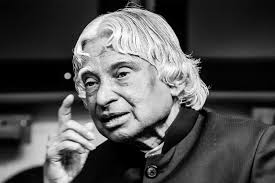 Lives of Great men all remind us
We can make our lives sublime,
And, departing, leave behind us
Footprints on the sand of time

A frail boy with a sharp brain is born to a Muslim boatman father and housewife mother.
8 years have passed… the financial isn't good enough.Boat business doesn't pay up well. He supplements his father's income by distributing newspapers in the town.
15 years have passed… he has graduated in physics from Tiruchirapalli.
6 years have passed… he has moved to Madras to pursue Aeronautical Engineering.
8 years have passed… he has started his career as a DRDO scientist.
11 years have passed… India enters the space club by putting Rohini satellite in the near earth orbit, under the stewardship of that frail boy.
12 years have passed… he is the chief scientific Advisor to the PM and Secretary of the DRDO and receives Bharat Ratna, highest civilian award in India.
3 years have passed… he is now the Head of the country. Also, becomes the first scientist and first bachelor to occupy Rashtrapati Bhavan.
7 years have passed… he travels around the corner of the country meeting students, academicians and professionals, delivering the message of hard work, integrity and hope.
8 years have passed… (28 July 2015, 6: 35 PM) the grey haired bachelor closes his eyes forever, collapses while delivering a lecture at IIM,Shillong.
The Dear Man has departed, starting his journey to heaven after having lived 83 legendary years in our land.
He took the final journey, teaching, what he always wanted to be remembered doing. Till his last breath, he was standing tall, working and lecturing.
He would not have been what he is today, had he scored a few more marks in ASFB interview.
In his book "My Journey: Transforming dreams into actions", Kalam said that his dearest dream was to be able to fly to handle a machine as it rose higher". He always wanted to be a pilot but he couldn't live his dream because destiny had planned something bigger for him…
What makes him so special that he was dearly loved by one and all?
Practising what he preached, igniting minds of millions, humanitarian works, a vision of India 2020 and lastly his humble attitude.
What has he left behind?
20 books he authored, his bare possessions, his exemplary life as a great statesman, acclaimed scientist and a loved teacher.
In conclusion, Mr Kalam sums up his life in his own words
Love poured to the child…struggle…more struggle…bitter tears…then sweet tears and finally a life as beautiful and fulfilling as seeing the birth of the full moon.

Click here for government certification in Life Skills