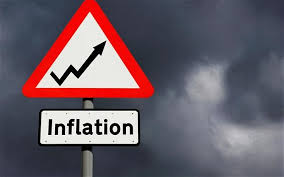 I.            WPI: 
The WPI is considered as one of the  main inflation measures in India, because of its availability at high frequency, national coverage and disaggregated data which facilitate a better analysis of inflation. On 14 September 2010, a new WPI series was released with base 2004-05. A representative commodity basket comprising 676 items was selected and weighting diagram was also changed to reflect the change in share of different items in the total production as well as introduction of new ones. 176 items were dropped/ revised. The broad categories items in the WPI and their subcategories are as below:
1. Primary Articles:
Food Articles
Non food and minerals
2. Fuel and Power
3. Manufactures Products:
Food Products
Non-food Products
The share of primary articles has gown down and that of manufactured and fuel products has gone up, indicating the industrialization of the economy. Also since the share of manufactured products is higher, change in their items will affect the index more than the others.Before Oct 2009 the WPI was released on a weekly basis, with the lag of two weeks, now the weekly release covers only the 'Primary' and 'Fuel & Power' groups. The WPI for 'All Commodities' and 'Manufactured Products' is released on a monthly basis with the same time lag.The WPI is released by the Office of the Economic Advisor, Ministry of Commerce and Industry, Govt. of India. 
      II.            CPI: 
At the national level, there were four Consumer Price Index (CPI) numbers until recently. They were:
A) CPI for Industrial Workers (IW),
B) CPI for Agricultural Labourers (AL),
C) CPI for Rural Labourers (RL) and
D) CPI for Urban Non-Manual Employees (UNME)
 All these indices have different base years and cater to specific segments of the  population, and thus can be considered as partial indices. They are not oriented to reflect a true picture of the price behaviour and effect of price fluctuations of various goods and services consumed by the population in the country. Hence form January 2011 onwards the Central Statistical Organisation (CSO) of the Ministry of Statistics and Programme Implementation (MOSPI) has taken upon itself to compile a new series of CPI for the urban and rural populations separately and both combined. The indices will be released for all states and UTs and on an all-India level.
The National Sample Survey Organisation collects data for urban centres whereas MOSPI has roped in the postal department to collect price data from villages. Price data from 1,181 villages and 310 towns is collected.  Weighting diagrams (consumption patterns) of al the 3 indices have been derived from the results of the National Sample Survey's (NSS) 61st round of Consumer Expenditure Survey (2004-05).
New series of CPI: All India weights

 

 

Sub group/group

Rural

Urban

Combined    (Rural+Urban)

 

Cereals and products

19.08

8.73

14.59

 

Pulses and products

3.25

1.87

2.65

 

Milk and milk products

8.59

6.61

7.73

 

Oils and fats

4.67

2.89

3.90

 

Egg, fish and meat

3.38

2.26

2.89

 

Vegetables

6.57

3.96

5.44

 

Fruits

1.90

1.88

1.89

 

Sugar etc

2.41

1.26

1.91

 

Condiments and spices

2.13

1.16

1.71

 

Non- alcoholic beverages

2.04

2.02

2.03

 

Prepared meals etc

2.57

3.17

2.83

 

Pan, tobacco  and Intoxicants

2.73

1.35

2.13

 

Food, beverages and tobacco

59.31

37.15

49.71

 

 

 

 

 

Fuel and light

10.42

8.40

9.49

 

Clothing and bedding

4.60

3.34

4.05

Footwear

0.77

0.57

0.68

 Clothing, bedding and footwear

5.36

3.91

4.73

 

 

 

 

 

 

 

Housing

22.53

9.77

 

Education

2.71

4.18

3.35

Medical care

6.72

4.34

5.69

Recreation and amusement

1.00

1.99

1.43

Transport and communication

5.83

9.84

7.57

Personal care and  effects

3.05

2.74

2.92

Household requisites

4.48

3.92

4.30

Others

1.12

0.99

1.06

Miscellaneous

24.91

28.00

26.31

 

All Groups

100.00

100.00

100.00

 

 

 
Source:RBI Annual Report 2010-11
As can be seen from above, food has the highest share in the household expenditure (49.71%), thus making CPI inflation sensitive to food prices. In April 2014, the Reserve Bank of India adopted the combined-CPI as the main policy measure for inflation. Before April 2014, the WPI with new base was used as they key inflation measure in deciding monetary policy. 
III. GDP Deflator: 
The GDP deflator is released by the Central Statistical Organisation in the National Accounts Statistics. Although it includes the entire spectrum of economic activities, it is available on a quarterly basis with a time lag of two months since 1996.

Hence GDP Deflator cannot be used as the main measure of inflation in India in spite of its apparent advantages over other indices.
Click here for government certification in Accounting, Banking & Finance