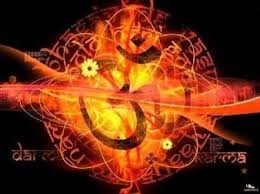 'Man' means mind and 'tra' means wave or projections. Therefore, a mantra is the projection of the mind through sound vibrations.
Have you ever wondered why we suddenly react if someone passes on negative comments to us. Or why we don't like to be surrounded by a handful of people even when they don't speak anything bad. This is because we humans are not just flesh and bones, we are the energy beings. Our energy travels and thus when someone passes any negative thoughts or words about us, we start to react at the same level. Similarly, we feel good and loved when people compliment us. We feel positive when they inspire and motivate us. Our mood suddenly lifts up and we feel full of energy and enthusiasm when we engage in a happy conversation. This is the therapeutic use of words.
Mantras, too, are words with higher sound vibrations. They are a commonly used spiritual practice which is considered a route to the spiritual development.
How do chanting mantras affect us?
Helps in oxygenating the brain
Normalizes our hormone production, which balances our mood and overall sense of well being
Reduces anxiety and depression
Activates the body's natural healing process
Helps block the release of stress hormones and increases the immune function
Reduces the heart rate and blood pressure
Assists in creating calm brainwave activity
Facilitates better concentration and memory power
Aids in getting over addictions like alcohol, smoking and drinking
Lifts us above mere earthly pleasures
Mantras turn the negative into positive. Someone has very rightly said that, "As music has charms to soothe a savage beast, so the spiritual sound of mantra soothes the restless mind."
Mantras are most powerful if they are practiced daily at a fixed time. While the ideal timings are early mornings and evenings, we may practice it whenever we feel better. Moreover, it is important to note that the place too plays an important role. The place shall be calm and peaceful.
Let us look at some popular mantras and what message do they convey:
Mahamrityunjay mantra , which reads:
OLM TRAYAMBAKAM YAJAMAHE
SUGANDHIM PUSHTIVARDHANAM
URVARUKAMIVA BANDHANAAN
MRITYOR MUKSHI YAMAMRITAT
The literal meaning of this hymn is: Oh! Creator of this Universe, Your fragrance can be experienced all around. It is my humble prayer that I may lead a life that may liberate me from death in the same manner as the musk melon gets detached from its creepers after it has become ripe.
Gayatri mantra, which reads:
OM BUHR, BHUVA SWAHA
OM TAT SAVITUR VARENYAM
BHARGO DEVASYA DHEEMAHI
DHIYO YONAHA PRACHODAYAT
This implies: We meditate on the glory of the Creator, who has created the Universe, who is worthy of worship, who is the embodiment of knowledge and light, who is the remover of sin and ignorance, may he open our hearts and enlighten our intellect.
NADA BRAHMA VISHWASWAROOPA
NADA HI SAKALA JEEVAROOPA
NADA HI KARMA NADA HI DHARMA
NADA HI BANDHANA NADA HI MUKTI
NADA HI SHANKARA NADA HI SHAKTI
NADAM NADAM SARVAM NADAM
NADAM NADAM NADAM NADAM
This means: Sound is Brahman, the manifestation of the Universe, sound manifest itself in the form of all life, sound is bondage, sound is the means for liberation, sound is that which binds, sound is that which liberates, sound is the bestow-er of all, sound is the power behind everything, sound is everything.
So next time when you chant any of your favorite holy mantra, do it with the intention, conviction and emotional attachment and see the power it unfolds for you.