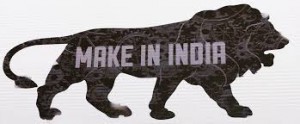 The world is looking at Asia.I do not have to waste time to invite people.I need to give them the address.
These were the words of our respected PM Narender Modi ji on the concept of Make in India .It is an initiative of the Govt of India to encourage companies to manufacture their products in India.
The govt committed to chart out a new path wherein business enterprises are extended red carpet welcome in a spirit of active co-operation .Invest India will act as the first refernce point guiding foreign investors on all aspects of regulatory and policy issues and to assist them in obtaining regulatory clearances.The govt is closely looking into all regulatory processes with a view to making them simple and reducing the burden of compliance on investors
The Make in India initiative also aims at identifying select domestic companies having leadership in innovation and new tech for turning them into global champions.
Since the new Govt took over,a series of initiatives have been taken to revitialise the industrial sector in general and manufacturing sector in particular.The few are mentioned below:
The process of applying for Industrial license and Industrial Enterpreneur Memorandum has been made online on e-Biz  website
The vast number of Defence items have been de- licensed 
The validity of Industrial license has been extended to 3 years
Recently the FDI(foreign direct investement) policy has been liberalized.100% FDI under automatic route has been permitted in construction ,operation and maintainence in Specific Rail infra project. FDI in defence liberalized from 26% to 49%
Govt has taken decision to set up a separate Department of Skill Development and Entrepreneurship
Calling upon domestic and international companies to invest in India PM Modi said his govt focus was not only to Look East but also to Link West
Really proud to have Modi ji as PM
Go Modi !! Go India.!!