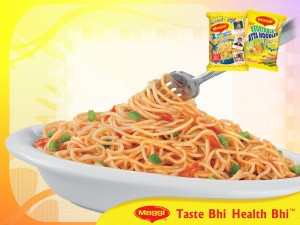 For those of us who claimed that they could "cook" for themselves,only because they had mastered the art of cooking maggi noodles,  ban of Maggi in our states came as shocking news!
Maggi made chefs out of all of us!
Why was it banned? Well everyone might have known the reason behind it by now: added MSG and higher than permissible value of lead found.
What happened to Nestle's finances and brand name after its star product got banned in 10+ states across country?
Nestle said that stocks of Maggi Noodles worth Rs. 210 crore  were being withdrawn from the market and destroyed even as another Rs. 110 crore worth of finished and related material stocks remained at its factories and distribution centres.The final figure of loss could be much more since the costs of bringing back stocks from the market and transporting the stock to destruction costs etc. have been not yet added. The impact of ban will definitely be deeper than that!
 Maggi was ranked no 18 in the BrandZ Top 50 Most Valuable Indian Brands study, conducted by Millward Brown and commissioned by WPP last year.
It'll  be an understatement if one may say that band erosion of Maggi happened in a few days!
How has it affected us?
Consumers like you and me who will not get to eat it,not for any-time soon! (not to forget to mention that it was a sole relief for students living in hostels,flats!)
People who are distributors of Nestle products; Maggi ,being a major constituent of sales, has hit hard the distributors and their business has gone down.
It's already a PR disaster and it'll be next to impossible for Nestle to gain back the trust. This whole episode has hurt the goodwill of the company which will have long-term consequences.
The point here to concentrate is that it's still selling! Of course the numbers have dropped down as much as 60-70%, but it's still selling! As of now the sales are down and brand name has tremendously gone down.
Ban on Maggi has proved to be a boon for rival brands to overtake such established brand which has set its foot for years in the market,but that's not really a relief because other top brands like Top Ramen,Wai-Wai and other packaged noodles are under scrutiny for adding adulterated ingredients.
In contrast, the Indian packaged food market — its consumers, regulators and even the government agencies concerned — is in a much less evolved phase. Ingredient labels on packaged food hardly come under scrutiny (except perhaps for brown dots, which denote non-vegetarian food, and green dots for vegetarian).Still, if it does become a wake-up call to the Indian consumer to watch what she eats, then it will have done some good.
"Maggi will be back on store shelves soon" said Paulo Bulche, Global Chief Executive, Nestle. But stating a comeback will be a formidable task!