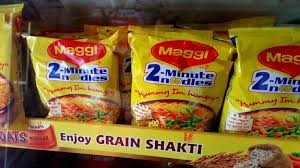 "Meri maggi 2-minute mein khushiyan" gives you the power to create happiness in 2 minutes.it is one of the largest and most loved food.Generation have grown-up loving its signature taste of masala,apart form this maggi is also attached with the memorable experience of many people.
NESTLE India Ltd's prepared food division is the owner of maggi noodles.it also deals into various food product like;
1. milk products and nutrition
2. beverages
3. chocolates and cofee
4. maggi
Nestle India is largely composed of maggi.This product shows higest sales volume.maggi gives nestle the power to dominate the noodles market in the woorld second largest populous country.
MAGGI BAN
5th june 2015, was a nightmare for nestle India because its most profitable food product -2minutes maggi noodle was ban by bombay high court.
The food safety and standard authority of india have reported that maggi masala contains higher than permissible levels of lead (MSG).
MAGGI BAN TEACHES NESTLE A LESSON: DON'T PUT ALL EGGS IN ONE BASKET.
This is because of the following reasons
1)Nestle india stock dropped down in four days in a row from the day it was ban.
2)Nestle was stuck by exceptional charges of Rs415.6 crore on account of withdrwal of maggi noodles stock.
3) Nestle india reported that its net domestic sales decreased by 20.6% due to maggi ban and there wsas a derease in its profits and firm revenue.
4)According to a source -recalling and destroying 15day of inventory could lead to a loss of about Rs50CRORE,since for various months maggi remains off shelves and caused a loss of Rs180crore in sales and if we count july also than this figure rise to loss of Rs300 crore in sales.
5)All the ongoing maggi controversy wipes out nearly Rs10000crore from nestle market capital in 5trading sessions.
6)there was a net loss of 64.40crore for the 2nd quarter ended june30,2015.
7) Maggi ban hits the sales of company other product also.
8) Nestle see more than 320crore loss,branduing hit.
9)Ambuja cements is believed to have been paid the amount of Rs20crore for burning the recalled packets of maggi noodles at its cement plant in maharastra.
10) Maggi ban also leads to the closure of various plant and job losses across the value chain of Maggi noodles production.
All this gave a wake-up call to nestle for neglecting its other categories that have been loosing market share.
NEW AGENDA
BRINGING MAGGI BACK IN MARKET IS FIRST PRORITY: NESTLE INDIA CHIEF SURESH NARAYANAN
the company has now identified other categories and looking at opportunites of introducing new product to overcome the challenge that has resulted in the company recording its first quarterly loss in over three decades.
Nestle India trageting to get the maggi on shelves with a new advertisement: we miss you too, says maggi which aims to return to indian markets soon…..
Click here for government certification in Accounting, Banking & Finance