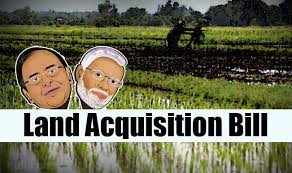 Today this amendment bill took new phase. After the protest of Anna Hazare on this amendment in jantar- mantar both the major parties in Delhi except Bjp are now on ground against it.
Firstly on 12th of April 2015 Delhi's Chief Minister Arvind Kejriwal addressed 'Jai Kisan Rally' at mundka, Delhi. At that rally he announced that there would be a compensation of Rs 20,000 per acre of damaged crops for the farmers of the capital. As I stated in my previous article that by this issue NDA lead Government give a massive chance to its opponents to impose allegations on working of government.
Today, Delhi encountered with another rally by Congress addressed by congress vice president Rahul Gandhi and congress president Sonia Gandhi. In which both of them imposes allegations on government that they financed their campaign from big corporates and they are paying back to them by threatening the farmers. Adding to allegations congress says that the Gujarat model that Modi was advertising during his election campaign was followed the same thing taking the acquiring land from the farmers whether they willing to do or not and hand it over to the big corporates.
In reply to the congress allegations BJP spokes person says that, Mr. Gandhi while addressing to issue had forgotten what had they did to give profits to his brother-in-law Mr. Robert while they are in power. I through this article want to say that public has given you guys the power from them due to these reasons and you guys doing the same what being the difference between you and them.
The Question here is when will our political parties will do different work from playing this blame game? Since, the need of our economy is to increase the public-private partnership, which means we need more land but the question is why should we take the fertile land to increase public private partnership and that too not considering farmer's willingness. The question here why to promote Economic welfare in cost of Social welfare. It doesn't mean we don't need Economic Welfare, we can acquire the barren land. Such that the farmers to have a incentive by giving there land to government.