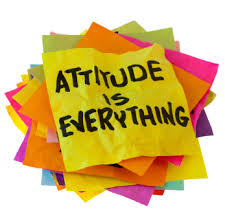 Predicting Behavior from Attitudes:
Important attitudes have a strong relationship to behaviour. The closer the match between attitude and behavior, the stronger the relationship:
Specific attitudes predict specific behaviour
General attitudes predict general behaviour
The more frequently expressed an attitude, the better predictor it is. High social pressures reduce the relationship and may cause dissonance. Attitudes based on personal experience are stronger predictors.
Major Job attitudes:
Job Satisfaction
A positive feeling about the job resulting from an evaluation of its characteristics.
Job Involvement
Degree of psychological identification with the job where perceived performance is important to self-worth.
Psychological Empowerment
Belief in the degree of influence over the job competence, job meaningfulness and autonomy.
Organizational Commitment
Identifying with a particular organization and its goals, while wishing to maintain membership in the organization. Three dimensions:
Affective – emotional attachment to organization
Continuance Commitment – economic value of staying
Normative – moral or ethical obligations
Has some relation to performance, especially for new employees. Less important now than in the past – now perhaps more of an occupational commitment, loyalty to profession rather than a given employer.
Perceived Organizational Support (POS)
Degree to which employees believe the organization values their contribution and cares about their well-being. Higher when rewards are fair, employees are involved in decision making, and supervisors are seen as supportive. High POS is related to higher OCBs and performance.
Employee Engagement
The degree of involvement with, satisfaction with, and enthusiasm for the job. Engaged employees are passionate about their work and company.
Are These Job Attitudes Really Distinct?
No, these job attitudes are not distinct and these attitudes are highly related.
Variables may be redundant (measuring the same thing under a different name)
While there is some distinction, there is also a lot of overlap.