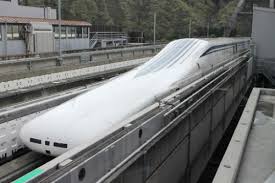 In Tokyo, Japan's Maglev train clocked a new world record in a test run on Tuesday(21st April) near Mount Fuji. The world record left all the previous records behind and smashed through the 600Km(373 miles) per hour said the Operator Central Japan Railway.
Previously, the company recorded 590Kph and it broke it's previous record from 2003 of 581Kph too. The Maglev levitates about 10cms (4 inches) above the tracks and it works on the Electrically charged Magnets. 
A reporter who rode the super speed train claimed "It was a feeling that i was taking off in a plane, feeling of the G force is more as the speedometer is pushed higher". 
Yasukazu Endo who heads the Maglev test centre in South West of Tokyo said "The faster the train runs, more stable it becomes" he also said that "The quality of the Train has increased by the time".
The JR central wants a train from 2027 covering up the 286 Km route between two cities in just about 40 minutes that is from Tokyo and Central City Nagoya.
The service would run at the top speed of 500 Kph the journey will be completed less than half of the present time consumed in these bullet trains. Maglev trains are expected to link Tokyo and Osaka by the end of 2045, reducing the journey time in just half. It has been estimated that nearly $100 billion has been spent just for the stretch to Nagoya and more than 80% of the route is expected to go through costly tunnels.
Japan is thinking of selling the Shinkansen and Maglev train system overseas, with Prime Minister Shinzo Abe acting as a traveling salesman in his bid to receive the economy partly through infrastructure reports.
Prime Minister will be touting the technology for a high speed rail link between New York and Washington, If happens that will be a great profit for them.
Click here for government certifications