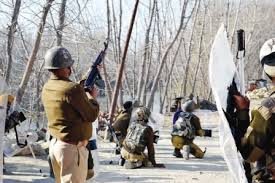 The history of CRPF and Jammu and Kashmir dates back to late 1989. With the growing tensions after 1987 elections in Kasmir and end of Soviet occupation of Afghanistan a great deal of militant energy and weapons were forced into the Kashmir valley. This was when CRPF was first deployed by the then Governor, Mr. Jagmohan Malhotra. On 20th January 1990, just the next day after his reappointment as the Governor of the state, the Indian paramilitary troops of the Central Reserve Police Force opened fire on a group of Kashmiri protesters in order to control the mass protests for independence, infamously known as the Gawakadal bridge massacre.
The recent clashes began with the surging of protest against killing of Khalid Wani in the crossfire when the Army tried to corner a Hizbul Mujahideen Commander Burhan. The army claims that Khalid had terror links, while his family blames the Army of a fake encounter. With government's no clear stance on the issue and detention of separatist leaders Masarat Alam and Yasin Malik the protests turned violent when the protestors started pelting stones on the security forces. The price was paid by Suhail Ahmad Sofi, an innocent 17-year-old class X student who got killed and two others who were wounded when CRPF opened fire on protestors in Narbal area of Budgam.
The protests again turned violent post the killing of the boy and a magisterial inquiry was ordered after police reported that a preliminary inquiry indicated violation of Standard of Operating Procedures by the CRPF. As such complete shutdown was observed in Narbal area of City amidst the protests and the clashes. With the detention of JKLF chairman Yaseen Malik and social activist Swami Agnivesh when they tried to lead a march towards Narbal, the situation is expected to remain tense.
Since 1990 there have been well known cases of abuse by the parliamentary security forces that have severely impacted the situation in Jammu and Kashmir. Human riots violations and poor accountability and investigation of the government have further given rise to insurgency in the state. But there is also a different viewpoint which needs to be equally respected. The security forces such as CRPF and the Army have thanklessly and continuously fought over decades for the protection of Jammu and Kashmir. The inflation of Army and security forces in Jammu and Kashmir is not out of any personal interests. It is just because an ordinary civilian has taken the law and the gun in his hands. Of course, with the knowledge of neither of the two. Unfortunately the situation has become so complex that it becomes difficult to distinguish right from wrong. But certainly, the heaven on earth isn't heaven for everyone. Or maybe anyone.