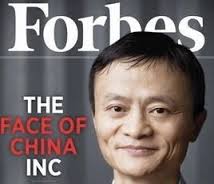 Like ebay and Amazon , Alibaba is an internet commerce company, but unlike these two giants, Alibaba does not actually hold inventory or sell goods . It's a middleman collecting annual fees and commissions from larger merchants and advertising fees from smaller ones .
Jack Ma, the founder of Alibaba has lived up to the name he choose for his company . He was sitting in a San Francisco coffee shop when he thought of the name Ali Baba for his company and the secret password of The 40 Thieves, "open sesame he had unlocked untold riches . This echoed his vision of unlocking the potential of China's small and midsized merchants, so the name stuck and there was no looking back .
In 1995, Ma founded China yellow pages, widely believed to be China's first internet based company, however, this attempt was not too successful and he went to work for the Minister of Foreign Trade and Economic Corporation.
So great was his determination to learn English, Ma  rode  his bike for 45 minutes each morning to go to a nearby hotel and converse with the foreigners staying there . He paid his fee in kind as during the day time he would guide these tourists around the city for free in order to practice and improve English . One day Jack was assigned to take an American visitor on a tour of the great wall. The visitor was Jerry Yang, co founder of yahoo . The meeting turned out to be transformative for both men .
Earlier in 1999 , Jack Ma gathered his friends and founded Alibaba in his apartment in Hangzhou, with a total pooled amount of dollar 60,000 . Alibaba's model was simple which allowed small and medium – sized Chinese companies to find global buyers . In 2003 , Alibaba made its first albeit small profit and launched Taobao to compete with US ecommerce group eBay, which then dominated in China with market share of about 80% . By 2007 , eBay's market share in China had dropped to less than 8% and it had effectively left the market . Taobao's share had soared to 84% , making Ma the unrivalled king of Chinese ecommerce .
Today , Alibaba is China's and by some estimates, the world's biggest online commerce company . It's three main sites Taobao, Tmall and Alibaba.com have million of users , and host millions of merchants and businesses. Alibaba handles more business than any other ecommerce company does and is the most popular destination for online shopping, in the world's fastest growing e-commerce market .
Click here for government certifications