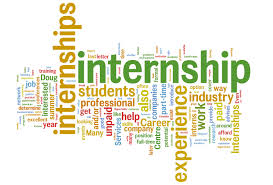 Internships are opportunities that allow young students to utilise their time in a judicious and effective manner. It prepares them to adapt, challenge, and grow with the rapidly changing business environments. Several industries have opened different avenues to attract and groom young talent as per their business requirements.
Different Management Institutes, Universities, and Colleges believe that internships, industry interfaces, live projects, and guest lectures by industry experts are a new medium that is shaping the education business and the industries globally.
Internships open doors for aspiring professionals, to take risks and challenge themselves for a better tomorrow. On the other hand the organizations get an opportunity identify, assess, and develop the capabilities of interns. Now a days corporates like Deloitte, Google, Hindustan Unilever, Pepsico, Ernst and Young, Make My Trip and many more invite young applicants to apply for internship programs in areas of their interest. These range from traditional core functions such as Marketing, Finance, Human Resources, and Operations, to opportunities in the Social Media, and Digital Marketing which are new age functions.
The evolution of social media and digital marketing has opened many more avenues of internship programs; nowadays young professionals can work in virtual spaces and gain experience. They can enrol themselves in projects, discussions forum with diverse teams operating across the globe.
Internship programs are responsible for adding qualitative and academic advantage to the resume of young and budding professionals. Moreover it allows young students to develop skills such as interpersonal skills, analytical skills, leadership skills and Team work skills.
Real Life Examples Shaping the Industrial Front:
We all know that Hospitality & Tourism Industry is a labour intensive industry, hence it offers an internship program for a period of 6 months wherein the interns are exposed to different core functional areas of a hotel. These include: Front office, Food & Beverage Service, House Keeping, and Culinary operations. Other operational areas include Sales & Marketing, Finance, Human Resources, Maintenance, Procurement, and Security. The  interns are rotated in all the core operational areas where they learn how each department contributes to the functioning of the hotel.
Interns are given an opportunity to work in teams which organize large scale and mid-scale events this allows them to develop further knowledge and skills into their respective areas of interests.
Top Indian and International Hospitality Chain groom interns as per the industry standards. In case during the internships they perform above the expected levels, they are offered pre placement offers which can be availed post completion of their graduation.
Another aspect that would definitely draw your attention is that interns are provided guided support in the form of mentorship programs and both colleges as well as corporates work towards grooming the young workforce into being budding managers of future.
Internships provide multiple set of advantages to interns as well as the corporates. The rapidly changing business environments and advancement in technology have given rise to the new age opportunities to organizations and interns. For example nowadays many organizations offer research based programs in the form of virtual internships. Social Media is a new age media which allows interns to work together and gain global exposure in their respective fields. Organizations ensure that interns adapt to the culture of the organization and learn and grow.
The organizations also get an opportunity to assess the potential workforce; it is also cost effective since the organizations can invest in developing the existing workforce who are already aware of the processes within a company.
Internships that stretch for six months to a year can be transformed into a permanent job role, if the interns perform exceptionally well. Internships are generally rigorous training mediums which are used by organizations to train and retain a skilled workforce, in a cost effective manner.
Key Learnings  From An Internship:
ü  Corporate Exposure: Even before facing the challenges of the corporate world, the interns receive a chance to experience how the corporate world functions.
ü  Mentorship Program: Every intern is assigned an Industry mentor, who guides him on future career prospects within the fields available.
ü  Learning Environment: Internships offer a conducive and vibrant learning environment to interns.
ü  Competitive Advantage: Interning in big brands such as Google, Indiabulls, Evalueserve, HP, Samsung, Amazon, ACER, gives a competitive edge and adds more value to the CV of young interns.
ü  Internships enthuse, empowers; motivates interns to perform well under challenging circumstances.
ü  Internships are used to generate future employees
ü  These are opportunities that knit humans and technology together.
ü  They are responsible for increasing employee retention rate.
ü  Internships are a way to enhance the skills of the local workforce.
Internships are shaping industries globally, almost 70% of the workforce is offered full time employment based on their performance. Enhances overall productivity of employees; it also adds novel and new perspectives of business.
Click here for government certifications