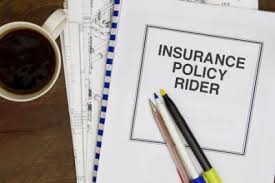 An insurance policy is usually very rigid and there is usually very little room for modification or customization of the policy. Customers usually aren't satisfied with the basic policy that is provided by the insurance companies hence there is a gap between these two. Insurance Riders come into play which provides additional benefits at additional cost to the customer. These insurance riders or simply known as riders help policyholders create policies that meet their specific needs and bridge the gap between them.
A rider is a condition or clause that is added to a base plan by paying extra premium. Riders can be used to get extra protection against a real risk without purchasing another insurance plan. Riders are beneficial as they cost way less than buying another plan. Policyholders gets flexibility as they have the option of adding or removing riders as per their need. The riders qualify for deductions from taxable incomes under relevant section of the Income Tax act.
Usually insurance companies particularly specify riders available for each product in their brochures along with the limitation that has been put on use of riders by the IRDA (Insurance Regulatory and Development Authority). Insurers also specify terms and conditions pertaining to the riders and all riders may not be available to everyone. The terms and condition of each insurer can be unique. Insurers have a wide variety of schemes some of the common are as follows:
This rider payment of a previously specified amount when the policyholder is diagnosed of a critical illness. The payment from the rider can be used for any purpose including payment of medical expenses or compensating for loss of income during the period. This rider will come into action only if the illness is covered in the list of illness covered.
Waiver of Premium (WOP) Rider
This rider waves future premium in the event of disability of the policyholder to pay due to illness or disability. The insurance company continues to pay the premium on behalf of the policyholder and everything remains normal. This rider is useful for helping to prevent the lapse of policy due to non-payment. These riders are sometime built-in in case of child plan to ensure that the child doesn't suffer on the death of the premium paying parent.
Term rider is used to enhance the death cover amount in a policy at a nominal cost. Instead of purchasing another plan to increase the death cover amount the policyholder can opt for this plan. It is especially suitable for individuals who want savings policy like endowment or money-back policy.
Accidental Death Benefit (ADB) Rider
The rider guarantees additional amount over and above the normal sum insured if the death of the insured occurs by accident. The accident has to be within a specified period and must be through a visible source. ADB Rider has a high significance especially due to the trend of increasing accidents in India.
Many riders are dedicated for the general public and those which cater the needs of a specific group of people.Riders are a very good way of upgrading your insurance plan without taking up a new plan all together.
Click here for government certification in Accounting, Banking & Finance