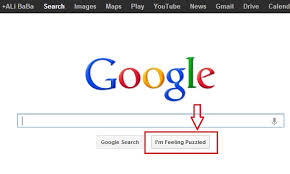 t
Google's home page has three main things: Google Doodle, Search and I'm feeling Lucky.
For Google, this "I'm Feeling Lucky" button right across the "Search" button is a serious loss of money!
How could a tiny button possibly make them lose their money?
Normally, when you search for anything on Google, the result page flashes n number of search results. The most relevant result appears first along with other results. The results are ranked according to Google's PageRank Algorithms. You then sift through the pages to finally land up on the information you were searching for.
One of the ways Google provides result is by customizing Search for a number of countries and regions around the world. For example, In India, are results are done by www.google.co.in and you get the results that are most relevant in India.
The "I'm Feeling Lucky" works in a way that it allows the user to be directly taken to the first search result, which is the most popular search amongst all the other searches. Thus, the user completely skips all the other search results and pages.
Now, Google makes money by showing advertisements and promoted search results when people search using its search engine. Thus, by clicking "I'm Feeling Lucky" button you're directly causing them revenue loss.
How much is the loss?
According to data, around 1% of the searches done on Google are through this button, thereby skipping all the possible advertising and hence resulting in an estimated loss of around 110 million dollars in potential profits per year!
Why was it launched in the first place?
The main idea behind the "I'm Feeling Lucky" button was that if you were lucky enough, this button would return you the exact information you wanted, without having to take a look at the infinite sea of results.
It was a kind of provocation on the part of Google, as it said "you can trust my instincts!"
Although, with the launch of "Google Instant" this button has become irrelevant. It's now more of a marketing tool. If you click the button without entering anything in the text box, Google takes you to Google Doodles Archives (we all know how creative Google is with their Doodles which represent events like holidays, anniversaries or current events)!
Apply for a Vskills certification in Management now. Hurry up!