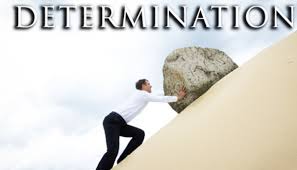 Let me start by sharing a story with you. Years back a girl was born with visual and hearing impairment. However she was determined to get educated despite all odds. She lived a life helping others and inspiring people. Mark Twain, Graham Bell, William James admired her. You may have by now guessed whom I am talking about, yes it is none other than Helen Keller who's determination and faith helped her overcome all odds. She could have easily been deterred by her physical problems and would have then been lost into oblivion but she didn't she was persistent and determined to fight it all.
We all are aware of how important determination is in our lives. Its the force that drives us to accomplish our goals. It acts as a motivating source to all of us and comes before goal attainment. Do you think in the absence of determination we would have been able to accomplish anything in life? I don't think so. If i was not determined to top in my class 12th boards I may not have, because then i would not have been motivated and would have acted in a very careless and lazy manner. Isn't that true for you also?
Many famous people we know of from Mark Zuckerberg to Steve Jobs to our very own SHAHRUKH KHAN. We all know how Shahrukh Khan stared don't we he worked his way through television to attaing the biggest fan following, you know he hardly ever sleeps. Our prime minister Narendra Modi from a tea boy to the position he handles today. Both of have them have worked hard and were determined to attain success.
Determination pushes an individual towards action and results in important outcomes such as perseverance, and development of coping mechanisms. It enables an individual to overcome all obstacles and work towards their goals. Researches have shown that determination can be learned. It has been seen that when children and employees are out under positive environment and provided with the essential resources they may become more determined to achieve goals.
Thus I would suggest you all to be determined in whatever you do no matter how big or small the job is.