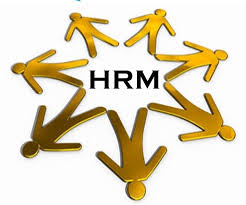 I know you all know what human resource management is. But what I have written here is presenting the concepts in a unique way.
Importance of human resource management can be understood in a way that a dress , no matter how much stylish and expensive, is worthless until  and unless it is worn by a person. Similarly a machine no matter how much advanced, is a waste of money if there is nobody to operate it.
Thats the work, an HR manager does.
Finding a person to operate the machine. But what if the dress doesn't fits you. Then the outcome won't be the same as you thought. Rather that beautiful dress of yours will look absurd. Just like that a manager must find a person who has the relevant knowledge about the work. He should be fit for that machine.
Moving on, have you ever thought why the same dress worn by different people, look different on them?
Well thats called  the style with which you carry it. The employee selected must be creative enough to present his own style through his work done. But you can't wear the same dress again and again or even the same dress with the same look. You need to try something different. The employee should keep on trying to find new and efficient ways to do the work.
Only then the organisation can survive. That is why human resource is an important element of the organisation. I hope you got the idea of what  I am trying to say.
Click here for government certification in Human Resources