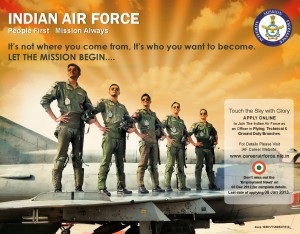 Becoming a pilot is one of most popular dream profession which children and even teenagers aspire to pursue. But an Indian Air force pilot is not unlike the commercial pilots and has double responsibility.
The article following will be a helpful guide for all aspirants to know all details about it.
First of all one must understand that being an air force pilot has great responsibility like first and foremost you are serving and representing your country, you have to be ready to sacrifice your life anytime as it is a risky job and it requires great physical strength and presence of mind .So in short one needs to be mentally prepare to get into this.
One can become an air force pilot in India by two means:
1. Through NDA (National Defence Academy):
Selection through NDA is only for men.
To join through NDA the educational eligibility criteria is to have appeared or passed 10+2 with Physics and mathematics.
The age limit is 16-19 years.
After you are mentally prepared you need to check that is your physical wellbeing prepared to be an air force pilot??? To become an air force pilot there are some physical standards which are listed below:
You must be in good physical and mental health and free from any disease/ disability, which is likely to interfere with efficient performance of duties.
There should be no evidence of weak constitution, bodily defects or overweight.
The height and weight standards for men and women differ.
Your chest should be well developed. The minimum range of expansion after full inspiration should be 5 cm.
There should be no disease of bones and joints of the body.
You should be free of any past history of mental breakdown or fits.
Your hearing should be normal without any evidence of present or past disease of the ear, nose and throat.
There should be no sign of functional or organic disease of the heart and blood vessels.
Your blood pressure should also be normal.
The muscles of the abdomen should be well developed without any enlargement of the liver or spleen. Any evidence of disease of internal organs of the abdomen can be a cause for rejection.
Urine examination will be done and any abnormality, if detected, can be a cause for rejection.
Any disease of the skin, which is likely to cause disability or disfigurement, will also be a cause for rejection.
Vision will be tested. You must have good binocular vision. In case you have undergone or are detected to have undergone Radial Keratotomy, or any other procedure to improve the visual acuity, you will be permanently rejected
You should have sufficient number of natural and sound teeth. A minimum of 14 dental points will be acceptable. When 32 teeth are present, the total dental points are 22.
Hence, you can easily understand that becoming an air force pilot cannot be a profession which one can take by chance or just go into it. It requires "perfect" physical attributes.
I guess 80 % of aspirants might have dropped off idea of becoming one or might be planning to start to enrol in some gym. Well as I told you before it requires luck and great determination. But do check the other option before doing anything.
2. Through CDSE (Combined Defence Services Exam):
CDSE provides selection for both men and women.
The educational selection eligibility criterion is:
First Class Graduation (min 60% aggregate marks) in any discipline (Three Years Course) with Physics and Mathematics at 10+2 level.
First Class (min 60 % aggregate marks) B.E./B.Tech. (Four years).
Final Year students can also apply, provided they don't have any backlog and min 60 % aggregate marks in the previous year/ semester.
The age limit is 19-23 years and requires a person to be unmarried.
To become an IAF Pilot one has to follow the below given steps:
Step 1 -Scrutiny of Applications
After scrutiny of application for the eligibility sent by you to the IAF you will receive a call letter with further instructions.
For seeking entry into the Flying Branch through the NDA or CDSE, your applications need to be sent to UPSC, New Delhi. It conducts a written test twice a year in April & August (NDA) and April & September (CDSE). Advertisements for the examinations are released about six months in advance. Qualifying in these exams take you to step two.
Step 2 -Testing Officer Like Qualities
After successfully clearing Step 1, you will receive a call letter to report to any one of the Air Force Selection Boards located at Dehradun, Varanasi and Mysore. At the Air Force Selection Boards, you undergo a number of psychological tests, an interview and group activities, which are collectively called the Officer Like Qualities (OLQ) Tests. These tests are designed to gauge your potential and suitability as an officer in the Armed Forces.
Short Description of the Test
The Psychological Tests are written tests that are conducted by a Psychologist.
The Group Tests are interactive indoor and outdoor tests. We expect active physical participation from you.
The Interview involves a personal conversation with our Interviewing Officer.
Most Important test to become an IAF Pilot
Pilot Aptitude Battery Test (PABT) is a unique test. It is aimed at assessing a candidate's aptitude to be trained as a pilot. PABT is being used as an independent selection device to induct potential officers into Flying Branch of Indian Air Force. PABT comprises three tests via Instrument Battery Test (INSB), Sensory Motor Apparatus Test (SMA) and Control Velocity Test (CVT). Instrument Battery Test (INSB) is a paper pencil test and other two are machine tests. The Instruments Battery Test (INSB) comprises two parts.
This test assesses assimilation of the briefing and the ability of an individual to read and interpret the dials of an instrument panel of an aircraft. The candidates who score the minimum laid down criteria are subjected to the machine test. The machine test includes Sensory Motor Apparatus Test (SMA) and Control Velocity Test (CVT). These tests measure the psychomotor co-ordination skill of the individual. These tests are conducted on a single day and administered only once in life time.
Step 3 -Conducting of Medical Examinations
If you are found suitable by the Selection Board, you would be sent to the Air Force Central Medical Establishment, New Delhi or the Institute of Aerospace Medicine, Bangalore for a thorough medical examination.
Step 4 -Preparing All India Merit List
An All India Merit List is compiled on the basis of your performance at the AFSB (Air Force Selection Board) and subject to being medically fit. Based on the vacancies available, Air HQ would issue joining instructions to join Air Force Academy for the training of a Pilot.
The Flying branch includes:
Fighter pilots the elitist bunch of persons of the Air force who fly combat or fighter planes (like Mirage 2000, MIG 29, MIG 27, Jaguar, MIG 25, MIG 23 and MIG 21) carrying ammunition and missiles
Transport pilots who fly planes (like huge IL 76 (Gajraj) and AN 32 ) which carry men and materials, and Helicopter(like MI-17) pilots who provide air support to a moving army, or are used for Para-dropping men and supplies.
It depends upon your performance in the training which plane you will be flying of after completing your training in the academy.
So I guess all who have been through his article might have understood well that being a part of India Air Force as a pilot requires great aptitude, mathematical and logical skills, great presence of mind in any circumstance and of course tremendous will power and determination.