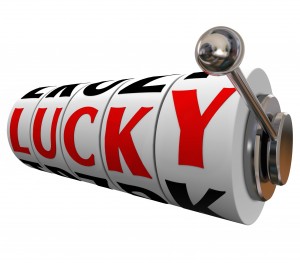 Luck does not make abrupt and random appearances. It's ridiculous for one to simply sit back and wait for luck to give some good news. Only after we are on the voyage can we know that we have discovered a new island or met a hailstorm. In other words, we have to build opportunities for ourselves where we can greet our good or bad fortune.
I would like to share a personal anecdote. It was the Inter School Darts Championship -Semi Finals. At a point in the game, both players had to aim the bull's eye; whoever was closer would then lead by a large margin and this was very significant for qualifying to the Finals. My opponent took the first throw and the pin landed just touching the metal rim of the centre 25 point circle i.e. right next to the bull's eye. With the tension created, I took my position. All eyes were on the dart board, afraid to even blink. With full concentration I made my pin land right next to my opponent's, just a tiny millimeter more close to the target. Immediately somebody shouted, "Lucky".
He obviously didn't know how much I had practiced to learn how to place my pin in line with another in such a way that mine is closer to the target. I had worked hard to create luck for myself. I could have easily lost even after so much of practice. My luck did favour me when I threw that dart, but it was possible only because I had opened the door and invited my own good luck, with my endeavors. . Gary Player one of the all-time golf greats, once famously said, "The harder I practise, the luckier I get"
In the example stated in the previous article, had the owners of Olacabs not planned and strategized to take their company to the position at which it was, if they were not present at that place they would not have been able to taste the sweetness of their fate.
Thus in conclusion, this is a wide and a very deep concept which is beyond our complete comprehension, nevertheless it is there. What we do understand is that hard work and luck go hand in hand always.