Do you have the ability to help in planning, conducting, and administering programs for training employees? Then strengthen your skills and get ready to become the next training and development manager to expedite the acquisition of the knowledge, skills, and abilities required for effective job performance. In this article, we are going to guide you step by step to become a successful Training and Development Manager. So, let's first get an understanding of training and development specialists.
Training and Development: Overview
The basic role of the training and development manager is to create, administer, and deliver the training programs for businesses and organizations. And, this requires a complete assessment of an organization. After determining the needs, the specialists develop custom training programs that take place in a classroom, computer laboratory, or training facility. Moreover, they offer training sessions using lectures, group discussions, team exercises, hands-on examples, and other training formats.
However, some training sessions are in the form of video, Web-based programs, or self-guided instructional manuals. This training allows employees to connect informally with experts, mentors, and colleagues, often through the use of technology. In addition, they also monitor instructors and provide guidance to employees through media-based programs, or collaborative learning programs.
To get perfection in this, there are few skills that can help you to get ahead in this.
Training and Development Manager Skills
There are four important qualities that an aspirant must have to work and perform tasks as a training and development specialist. This includes,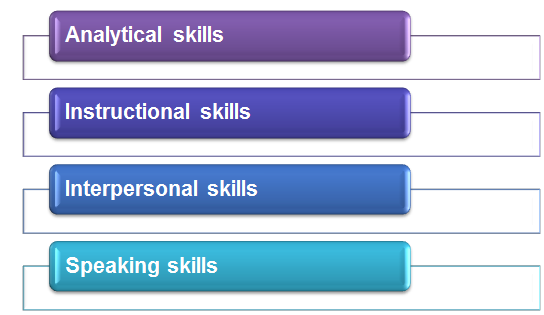 Firstly, Analytical Skills. This means that training and development specialists must assess training programs, methods, and material. Moreover, it is also required to select those which are best and then must be able to thoroughly analyze information.
Secondly, Instructional Skills. For analyzing training programs, training and development specialists must also deliver training programs to the employees using a number of different teaching techniques. A solid set of instructional skills will allow the specialist to improve the training.
After that, Interpersonal Skills. These skills help specialists to collaborate with other instructors, subject-matter experts and trainees to effectively deliver the required information.
Lastly, Speaking Skills. These skills play an important role as speaking and presentation skills are critical for training and development specialists to conduct presentations. The reason is that the information must be communicated clearly to encourage learning among a diverse audience.
Now you are familiar with the basic knowledge and skills of a training and development specialist. The next step will be to know about the education requirement including the experience and other important details to become a T&D Specialist.
Job Roles and Responsibilities
There are many tasks that Training and development specialists typically have to do. This includes:
Firstly, assessing training needs using surveys, interviews with employees, or consultations with managers or instructors.
Secondly, designing and creating training manuals, online learning modules, and course materials
Thirdly, inspecting training materials from a variety of vendors and select the appropriate materials.
Moreover, delivering the training to employees using many instructional techniques.
Then, monitoring and evaluating the training programs to ensure they are current and effective. In addition, selecting and assigning instructors or vendors to conduct training.
Lastly, performing administrative tasks such as monitoring costs, scheduling classes, setting up systems and equipment, and coordinating enrollment
Guide to Become a Training and Development Manager
Becoming a Training and Development Manager is not an easy task. That is to say, there are certain criteria that you need to follow and focus on. This includes experience and some other important details that will help you in your journey to becoming a T&D specialist. But, you will be glad to know that this is a growing industry and every industry is hiring for this role. So, let's start and understand this.  Firstly, we will talk about the education requirement.

Education Requirement
For becoming a Training and development specialist you are required to have a bachelor's degree. However, the Specialists came from a variety of educational backgrounds, but most of them have a bachelor's degree in training and development, human resources, education, or instructional design.
Moreover, a degree in business or the social sciences field including educational or organizational psychology is also acceptable.
Subsequently, technology continues to play a larger role in training and development, as many organizations are hiring candidates who have a background in information technology or computer science.
Related Work Experience
Work experience is an important part of most training and development specialists. The reason is, many positions require work experience in training and development, instructional design, teaching, or related work. Moreover, some employers even ask for previous work experience in the industry in which the company operates. Most importantly, there is bulk-hiring for candidates having experience in information technology, as organizations introduce more e-learning and technology-based tools.
In the next section, we will talk about the important part of this article that is related to certifications and different training providers.
Certifications – Need of the hour!
Getting a certification or certified tags has become important nowadays for getting a job as well as for enhancing your career by providing value to it. Moreover, the certification acts as proof that you have professional expertise and credibility. And, many employers prefer to hire certified candidates with the required certification. Likewise, there are many professional associations for human resources professional certifications that provide courses to enhance the skills with gaining practical knowledge. These certification providers will provide you with material as well as lots of practice test questions for training and development specialists. Below, we will talk about the top certification providers for the same.
Certification Providers
Certifications are helpful in advancing skills and careers. Moreover, these provide value to your CV/Resume that gives you an advantage during the hiring process. However, there are various certification bodies that offer certification in human resources. But, finding the accurate one is a difficult task. So, make sure you make your choice wisely. Below, there is a list of some of the top certification bodies. They are,
Vskills – India's Largest Certification Body
ISTD
Training Industry
Ecornell
Bookmytrainings
Moreover, the reason behind applying for a certification course is to get the basic knowledge and experience to stand out in the crowd. And, for better understanding things you will get tutorials for training and development and practice tests for assessing yourself.
Become a Pro!
That is to say, the Training and development specialist role is not constant. After getting the required experience and skills further there are many new opportunities waiting for you. That is to say, you can become a training and development manager. And, to move to an advanced position there is a need for having several years of experience. So, if you want it then you have to work for it.

Now, we are familiar with the job roles, responsibilities, experience and knowledge requirements. We move towards the next section with the focus on the top job roles for training and development specialists.
Top Job Roles
The job roles that you might get after becoming a training and development specialist are,
Career and Technical Education Teachers
The role of career and technical education teachers is to instruct students in various technical and vocational subjects that include auto repair, healthcare, and culinary arts. For this, there is a need to have at least a bachelor's degree. Moreover, it is also required to have work experience in the subject that they teach.
Compensation and Benefits Managers
Compensation and benefits manager's role is to plan, develop, and oversee programs to compensate employees. For this, there is a need for a combination of education and related work experience. Also, a bachelor's degree is required.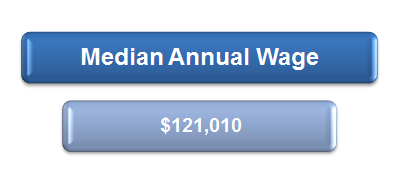 Compensation, Benefits, and Job Analysis Specialists
Compensation, benefits, and job analysis specialists conduct the organization's compensation and benefits programs. Moreover, they also evaluate position descriptions to determine the details that include classification and salary.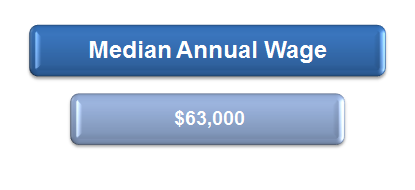 Human Resources Managers
Human resources managers are for planning, directing, and coordinating the administrative functions of an organization. For this role, it is necessary to have an education and several years of related work experience. Moreover, some jobs require candidates to have strong interpersonal skills and a master's degree.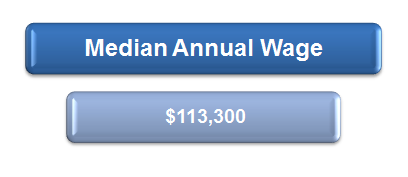 Instructional Coordinators
Instructional coordinators supervise the school curriculums and teaching standards. Moreover, they create instructional material, coordinate its implementation with teachers and principals. For this role, there is a need for a master's degree and related work experience in teaching or school administration.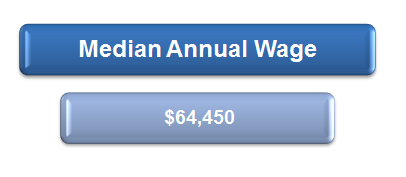 Labor Relations Specialists
Labor relations specialists explain and administer labor contracts for related issues of salaries, healthcare, pensions, and union and management practices. This role requires a bachelor's degree in labor relations, human resources, industrial relations, business, or a related field.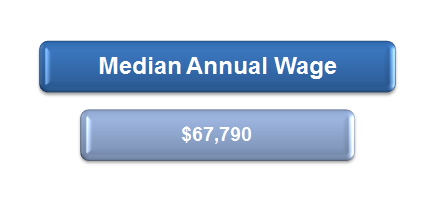 School and Career Counselors
School counselors are for helping students to develop the academic and social skills needed to succeed in school. On the other hand, career counselors help people to choose careers and then, follow a path to employment.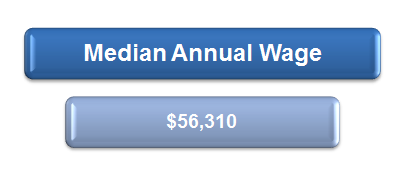 Training and Development Managers
Training and development managers supervise the staff and plan, direct, and also coordinate programs to enhance the knowledge and skills of an organization's employees.
Top Companies
The top companies that are hiring for training and development specialist are,
Cognizant Technology Solutions
Barclays
CMS Computers Limited (INDIA)
Xelate
Maersk Group
VWR
Below there is a list of companies provided with the average base salary of a training and development specialist.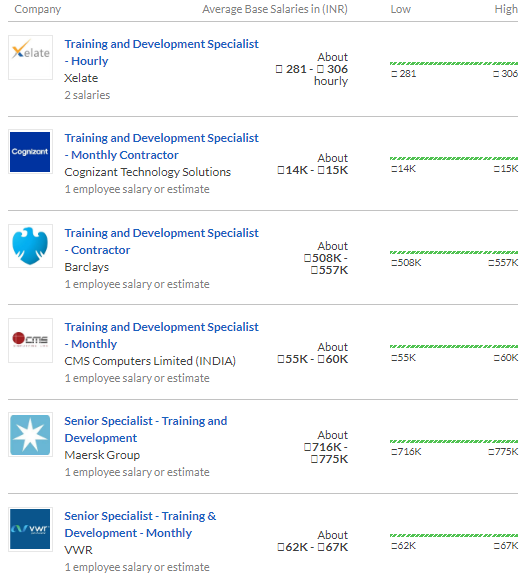 Experts Corner
The field of training and development in human resources management can be a golden ticket as its demand is growing at an exponential speed. Moreover, becoming a training and development specialist itself is proof that you have that professional knowledge and skills to perform complex tasks and operations. Most importantly, becoming a specialist is not your final destination as gaining experience and skills will open doors to advance your positions, that is, training and development managers. So, this can enhance your career with a good salary pay.

Learn and enhance your training and development skills. Become a Certified Training and Development Manager Now!