Do you enjoy working with people and ensuring that they have all they need to do their best? Do you like to encourage others and think about ways to make their work or life easier? Then a Career in Human Resource Management is just right for you. Working in HR is both challenging and rewarding.
Are you eager to start a career in this field but confused what to do? Then hold on as this blog will be your ultimate guide. It will set you on the right track to achieve your dream job. But before everything else you must be prepared to develop a thorough understanding of this field. So let's get an overview of Human Resource Management.
Human Resource Management: Exam Overview
Human Resource Management is the practice of managing people to achieve better performance. Professionals in this field are responsible for activities bridging a wide variety of core functions. They also oversee the business of managing compensation, benefits, training and development, staffing, etc. The Human Resource Department plays a key role in today's ever-changing business landscape. There are a number of elements that are considered cornerstones for Human Resource Management Professionals. Let's have a look at them.
Human resources management is all about the following areas:
Recruitment & Selection
Recruiting and selection are probably the most visible elements in HR. Recruiting and selecting the best candidates is a key HR responsibility. People are the lifeblood of the organization and finding the best fits is an important task. Therefore, HR recruiters use effective recruitment and selection processes to track prospective employees that mix with the company's culture and have the skills to drive the company forward.
Performance Management
Once employees are on board, performance management becomes important. Human Resource departments use various tools for measuring performance, including self and peer evaluations, targets for individuals or groups, and employee appraisals. Successful performance management is very crucial, as employees who consistently underperform may not be a good fit with the company and may have to be let go.
Learning & Development
Learning & development (L&D) is led by HR departments for improving the performance of their employees. This helps in advancing the organization towards its long-term goals. Also, HR managers prepare action plans for assessing the investment in learning and development programs.
HR Data and Analytics
HR data analytics is for keeping track of critical data through HR metrics or HR KPIs. These measurements answer how a company is doing on a given measurement. It is called HR Reporting. Predictions about the future are also made Using HR analytics. HR managers can take more data-driven decisions, by actively measuring.
Skills Required in Human Resource Management
To grab the dream job in the Human Resource Management sector, do you have the skills to stand out from the crowd? In this section we highlight some of the highly demanded skills every HR Professional must have:
Communication Skills: Communication is essential in Human Resource Management, as the HR professional is the link between the business and the employee.
Decision Making Skills: HR has to deal with a lot of decision making in their day to day responsibilities. This requires strategy, experience, and great decision making skills.
Intercultural sensitivity and language skills: HR managers of multinational companies deal with managers and employees of different countries. Therefore they must possess Intercultural sensitivity and language skills.
HR reporting skills: HR professional must be well versed in HR reporting skills. These include the ability to create, read, and interpret HR reports using data coming from different Human Resource Information Systems.
Teamwork: HR professionals are required to work in a team. They are expected to work together with colleagues in HR and with managers in the organization.
Negotiation Skills: HR manager diffuses conflict by negotiating with employees. This can be like when a new employee with extensive experience or a college degree requests a higher salary than the normal starting rate. The must be proficient in Negotiating to handle these issues.
Reasons to work in Human Resource Management
Working in Human Resource Management is one of the best career choices because of the following reasons:
Variety
Human Resource Management in today's competitive environment is vital to the efficient working of an organisation. They are responsible for several functions in their support of the workforce: compensation and benefits; employee training and development; recruitment, hiring and placement; information systems; and employee assistance. Moreover, there's enough variety for everyone in this field. Each specific domain requires a different knowledge base and each day is a new challenge.
Growth Potential
Growth Potential refers to your prospects of landing in a job, moving up and earning a promotion and raise. Human Resource Management as a career is projected to grow at 7% and job prospects expected to be "favorable," with 67,700 openings projected annually through 2028. Higher growth potential means higher earnings for you!
Flexibility
Jobs in Human Resource Management include flexible hours and telecommuting, collaborating with project teams and employees based outside the office. Also, with increase in technology remote working has gained popularity. Moreover, this flexibility offers job satisfaction and mobility.
Career in Human Resources
Human resource management is a fast-growing field with many lucrative opportunities for managers, HR generalists, and more. Breaking into this career is easier if you plan your life, education, and work experience around the field. However, entry level HR jobs demand minimum level of education and work experience. These introductory positions provide you a realistic view of the profession.
Moreover, HR professionals keep moving into different roles such as recruiting manager, payroll manager, staffing manager, administrator or human resources manager. However, most HR professionals choose between two broad paths: generalist or specialist.
Generalist
A Human Resource generalist is responsible for wide variety of tasks ranging from recruiting and hiring to training and development. Also, as a generalist you will develop personnel policies and ensure that the organization is in compliance with all federal, state and local labor laws. HR generalist job roles include HR assistant, HR manager, and chief HR officer.
Specialist
Human Resource Specialists work in multinationals. They possess higher level of technical skill and knowledge in specialized areas, such as workforce planning, HR development, rewards, employee and labor relations, and risk management. Their Job Roles include Retention specialist, Compensation specialist, Safety officer, and Risk management specialist etc.
Switching to HR Career
Professionals enter the HR domain through widely divergent paths. Some start in administration and then begin to focus on HR tasks while others may decide to move into HR, take appropriate courses, earn certifications, and then enter the field.
Academic degrees have been the traditional way out for beginning a career in Human Resource Management. However, employers are looking out for candidates with work experience. Moreover, they desire certified individuals who are willing to further their education and human resources training.
Top Human Resource Certifications
To validate your expertise and gain competitive advantage you must consider certifications. Becoming a Certified Professional will broaden your career prospects and increase your value in the job market. Some of the top certifications related to HR includes: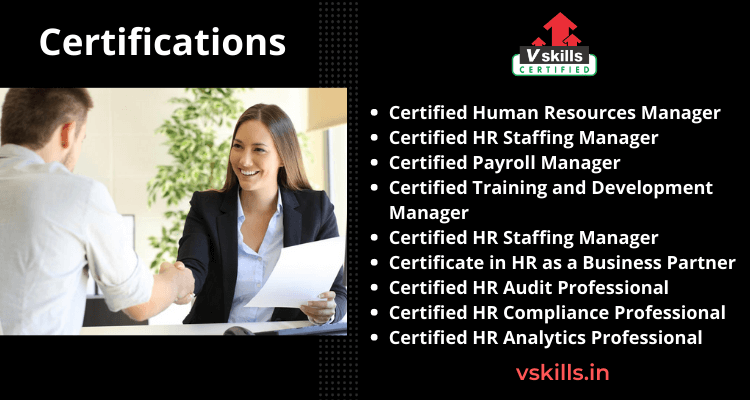 Certification Providers
After getting to know about various Human Resource Management certification, the next thing that comes in mind is to prepare for that. There are various certification providers out there that provide training with expert assistance. The certification providers include,
Vskills – India's Largest Certification Body
Edureka
Udemy
Simplilearn
Coursera

Now, lets learn about the various roles you can fit in for the Human Resource Management field and their job outlook.
Job Roles
As a professional in the Human Resource Managements field you can apply for the following job roles:
Human Resource Manager
Human resources managers are responsible for planning, directing, and coordinating the administrative functions of an organization. They handle the process like recruitment, interview, and hiring of new staff. Also, they support present and future business needs using development, engagement, motivation and preservation of human capital. Additionally, they handle staffing issues that include mediating disputes and directing disciplinary procedures.
Compensation and Benefits manager
Compensation and benefits managers are responsible for setting the organization's pay and benefits structure. They develop, implement and administer a company's rewards and benefits policies, including salaries, bonuses, pensions, life insurance and sometimes medical insurance packages. Moreover, they also create and manage training budgets.
Training and Development Specialists
Training and development specialists are responsible for organising raining and development programs for employees. They work with training managers and employee supervisors to develop performance improvement measures, conduct orientation sessions, and arrange on-the-job training to help employees maintain and improve their job skills.
Payroll Manager
Payroll managers are responsible for supervising the operations of an organization's payroll department. Further they ensure that all aspects of payroll are processed correctly and are on time. Also, administer payroll procedures as well as prepare reports for the accounting department, Moreover, they also resolve payroll problems or discrepancies.
Human Resources Information System (HRIS) analysts
Human resources information system (HRIS) analysts coordinate, communicate and implement changes to the HR information systems. Additionally, they are in charge of maintaining the system, implementing (process) improvements, ensuring data quality, and analyzing and reporting on the data in the HRIS.
Earning Potential
Human Resource Management Professionals will find employment in top companies like Capgemini, Tata Consultancy Services Limited Services Limited, EY (Ernst & Young), Bajaj Capital Limited, Ikya Human Capital Solutions, and HCL Technologies Ltd. etc.
Also, the earning potential as per experience is as follows:
To begin with, an entry-level Human Resources (HR) Manager with less than 1 year of experience can earn an average total compensation of ₹365,785.
Secondly, a Human Resources (HR) Manager with 1-4 years of experience can earn an average total compensation of ₹437,788.
Thirdly comes a mid-career Human Resources (HR) Manager with 5-9 years of experience. They can earn an average total compensation of ₹714,880.
Also, for an experienced Human Resources (HR) Manager with 10-19 years of experience, they can earn an average total compensation of ₹1,013,132.
Human Resource Management : The Future
The future of Human Resource Management is full of endless possibilities. It is the core part of every organisation and is growing rapidly. Organizations are focusing on creating a digital workplace for enabling high productivity and flexibility globally. Therefore Strategic thinking will become Human Resource Management Professional's new core competence. Also, in the near future HR Professionals will likely transition into HR Business Professionals who not only understand HR implications but also business operations and strategy. Additionally, HR will utilize analytics and big data to augment its value to the firm. Moreover, managing a remote workforce will be the new norm given today's scenario.
Wrapping Up
As we discussed, Human Resource Management boils down to – optimizing company performance through better management of human resources. Human Resources Management as a career offers exceptional opportunities for people starting out in the workforce. Before entering the field, learn everything you can about your industry, your competitors and the business scenario. Moreover, you need to get ahead of the curve, hone your skills and become a certified professional. Therefore, earning a professional certification will be a valuable addition to your CV. Also, you can take up online courses and refer tutorials to boost your chances to become a Certified Human Resource Management Professional.

Elevate your career and become a Certified Human Resource Management Professional. Start Preparing Now!