Hard Work – how working hard is the most critical determinant of success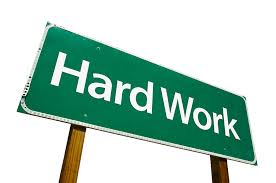 They say human existence is defined by our need to achieve and full fill our live goals. With each passing phase of our life we come up with a new goal- be it acing the board exams, getting into a college of your choice, landing up with your dream job or even something as simple as losing weight. But what is that one thing that binds us to the path to our aspirations? That's right- HARD WORK.
A dream doesn't become reality through magic; it takes sweat, determination and hard work.
The futile attempts at achieving our goals often exasperate us. The first thing that we need to day before navigating our way through is to think about our past experiences and figure out where we went wrong. To achieve something we must want it badly.
As people we continuously evaluate ourselves and make judgments about our way of living. This is known as self esteem. Remember, Self esteem plays a major role in our achievements. Achieving something in the past boosts up our self esteem and makes us more confident. It increases our self efficacy, that is the extent to which we believe we control our lives. People with high self esteem know that they have it within them to work harder and better.
The ability to monitor and organize our own behavior is known as self regulation. Keeping track of the process and progress of our work depends on how we regulate ourselves. Whether we are waking up early enough for our morning jogs, or putting in the right number of hours before a test.
Some ways to regulate your behavior to work hard are –
SELF INSTRUCTION: Tell yourself that going that one extra mile to burn a few calories is possible. Research proves that by telling yourself something repeatedly you trick your subconscious into believing it. Your brain will then automatically wire itself to work harder.
Self reinforcement: Supposing you have to prepare for your job presentation but you are too tired to. Reward yourself by preparing a good meal. Then self instruct yourself to finish the work as soon as possible so that you are able to finally treat yourself to one of your favorite things.
Remember, being tired is a state of mind. YOU are the miracle worker. YOU have it in you to work harder than ever to achieve something you have never achieved. The fruits of your goals lie in your hard work. So lift your chin up and get working!