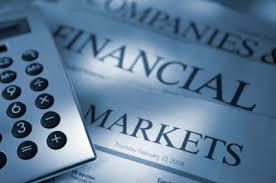 The present growth rate of financial sector in India is about 8.5% p.a. An increase in growth rate is equivalent to growth of our economy.Over the past few years,there have been reforms in monetary policies,economic policies,opening up of financial markets,development of other financial sectors e.t.c.In present times,a wide variety of financial products and services are offerred to consumers to keep them satisfied.The Reserve Bank of India has also played a major role to help in growth of financial sector of India.
The diversified financial sector of India comprises of banks,mutual funds,insurance companies,pension funds e.t.c.Do you know that the banking sector in India holds more than 60% of the total financial asstes of the country?At present ,India is without any doubts one of the world's most vibrant capital market.Let's take a look at  growth of some of the financial sectors of India one by one-
Growth of the banking sector
Being one of the most extensive,the entire Indian banking system has a total asset value of approximately US$ 270 billion with total deposits being around US$ 220 billion.The banking system in India is continuously advancing and tranforming itself.The current development of Core banking,Internet banking e.t.c. has made banking operations easy and customer friendly.
Growth of the Capital Market in India
The capital markets in India have also witnessed changes.Some of them are-
Stock exchanges facing privatisation.
Removal of ill-used forward trading mechanism
In order to serve different investors in different locations,the introduction of infotech systems in National Stock Exchange.
The increase in the ratio of transaction with deposit system and share ratio.
Growth in the Insurance sector in India
The market potential in India is immense.But it is untapped.So now in order to utilise this opportunity,both foreign and Indian private players are providing tailor made products with opening of the market.
Because of huge competiton and entry of new players,the insurance sector has also witnessed innovations like innovative insurance based products,services and value ass-ons e.t.c.
Many foreign companies like New York Life,Aviva,Standard Life have also entered this sector.
Now a days,the insurance companies are engaged in aggressive marketing,selling and distribution techniques because of the extreme competition that they face from each other..
The credit for the development of this sector also goes to the active part of the regulatory body –Insurance Regulatory and Development Authority.
Growth of the Venture Capital market in India
Inspite of the hindrances by the external setup,the venture capital sector in India is a very active financial sector.
In India,currently,there are around 2 international and 34 national venture capital funds registered by SEBI.
Click here for government certification in Accounting, Banking & Finance