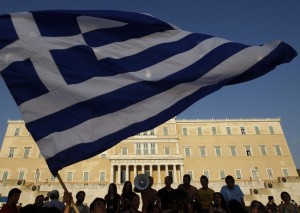 "Greece Crisis" is a frequent term that that is seen and heard around us. Though, Greece is heard popularly these days, problems emanated towards Greece long ago. The main factor that contributed towards Greece crisis is unemployment. In 2013, unemployment rate was 28%. The unemployment rate created a scenario of difficulty in levying tax from the population. This eventually led to reduction in tax revenues to the government.
Greece if it would have chosen drachma as its currency rather than falling under euro, it could have printed currencies to cover up its debt though that would have declined its value terrible in the global market. But, at the end of the day it's debt would have reduced which brings in a situation to focus on improving the country's scenario.
Tax rate was 42% at which Greece was levying its taxes and Vat was almost 23%, this led the government to collect tax from public. So, government has no other go other than restructuring its debts which eventually led the debt burden to reach 177% of GDP.  Greece obtained bailout money which made people question where did the money disappear? But though Greece utilized the bailout money to pay back its debt it still was not able fulfill the debt underlying and so the bailout money was not even brought into economy.
Greece has failed to repay its loans to IMF on Tuesday which was about $1.7 billion. In general financial terms this incident meant to be "default" though IMF treated it as an arrear. Greece also owes 3.5billion to European Central bank, the condition of this debt will be known in July.
How will India be affected due to Greece crisis? Though direct impact is not expected, indirectly companies that exports to Greece would experience a hit. Companies like Tata Steel, Tata motors, Cox & Kings exports a major part to Greece. Also, if Greece decides to move from Euro zone then that may have a impact on euro which may lead to capital outflow in India. Policies are being designed by RBI and GOI to face the consequences that are on its way.
Click here for government certification in Accounting, Banking & Finance