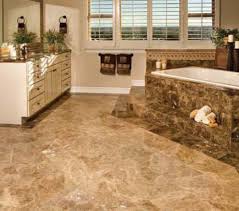 Granite is one of the popular flooring material in recent decade with its beauty, granite has several benefits to homeowners. Granite is also used as countertops and backsplashes. Granite gives an aura of richness and its beauty surpasses most of the other flooring materials. Granite is quite expensive and heavy, so must be installed by professional. Being a natural stone product it is biodegradable. It is not too porous as marble and sealing is not required if used in moisture proof area. It is harder and stain resistant than any other flooring material such as marble. Granite floor tiles, plastic spacers, wet saw, backer-board, screws, notched trowel, rubber mallet, grout float, grout sponge, penetrating grout sealer, paper towel are things required while installing granite flooring. Follow the following steps for granite flooring:
Clean and dry the sub-floor dry before installing. Peeling paint paints and residual sealant should be removed using sanding or scrapping.
Use 90 degree corner granite floor tile.
Lay floor tiles and use plastic spacer to keep the granite tiles properly aligned. Trim the tiles using a wet saw, so as to fit.
Now mix the thin-set as per the instructions on the pack. Then use a trowel to spread an even layer of thin-set over the sub-floor.
Place the backer-board and screw it down. This makes the surface smooth and which protect granite from damages.
Hold the trowel at 45 degree angle to form consistent ridges.
Use a slight twisting motion to press the granite tile into the mortar, by tapping it down with a rubber mallet. This ensures force out air pockets for complete contact.
Allow the mortar to dry for 24 hours.
In small batches mix grout and use it within 20 minutes. The consistency of grout should be like toothpaste.
Then work the grout into the tile joints with a grout float.
 Clean off any excess grout paste with the help float and using damp sponge.
Now leave the grout for three days.
Now apply a penetrating grout sealant. After applying the sealant remove the excess sealant from the tile. 
Flooring has been done successfully.