When we talk about the latest trending careers then we cannot deny the fact that being a part of business organizations in various positions is one of the best options. Businesses today require skilled professionals to improve the competitiveness and performance of the company. Many companies, as well as government organizations, go through organizational obstacles and require long-lasting solutions. These solutions are provided by Business Analytics professionals.
Business Analytics is an investigative approach that works systematically to analyze the data of a company and provide them with solutions. These professionals have an insight into all the activities like the past performance records, ongoing business operations, and industry trends. Moreover, looking after strategy planning and taking decisions based on all the data available and hence drive towards the growth and development of the company.
We will discuss the future Scope and Trends of Business Analytics in 2022 in this blog. The job opportunities in Business Analytics have increased in recent years. Moreover, business analytics has been one of the trending careers these days. We'll discuss all the roles and responsibilities along with the skills required and various career opportunities that you'll discover while entering the field of Business Analysis.
Roles and Responsibilities of a Business Analytics Professional
Let's have a look at some of the major roles and responsibilities of these professionals that they need to perform while working in this field. They are:
To begin with, identifying, defining and document business objectives, problems, input and output requirements.
Analyze the practicability and developing requirements for new systems.
Upgrading the existing systems.
Provide surety for the system design as per the needs of the users.
They also help in developing a comprehensive change in management strategy for the court.
Develop a training curriculum as well as conduct formal training sessions.
Define and document customer business functions and processes.
Use their techniques to improve existing business processes.
Identify the steps to support the implementation of new features.
Skills required to become a Business Analytics Professional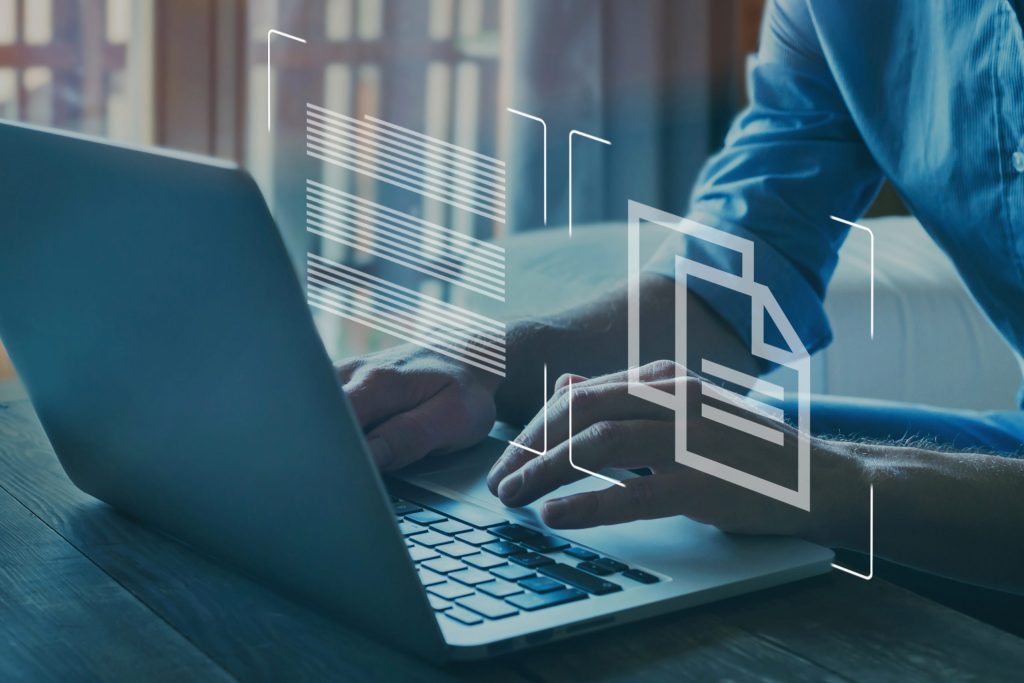 Below are some of the interesting skillsets required by such professionals and these will make your journey easy and steady. Some of the skills are:
To begin with, Communication skills
Interpersonal and consultative skills
Analytical thinking and problem solving skills
Being detail-oriented and deliver high level of accuracy
Organizational skills
Understanding of business structure and Stakeholder analysis
Requirements engineering
Costs benefit analysis
Lastly, processes modeling and knowledge of networks, databases and other technology
What do companies expect from Business Analytics Professional?
Knowing the importance and role of a Business Analytics Professional, there are a few expectations that a company have from their business analytics team. Some of them are mentioned below:
To create a detailed business analysis, outlining problems, opportunities and solutions for a business.
Budgeting and forecasting.
Planning and monitoring.
Working with organisations to help them improve their processes and systems.
Conduct research and analysis to come up with solutions to business problems.
Also, help to introduce these systems to businesses and their clients.
Types of Business Analytics
Business Analytics is categorized into four types. They are:
Descriptive Analytics: When you want to make data more accessible to all the members in the organization like the managers, investors, executives, etc, then descriptive analysis is the simplest form of analytics that can be used. Moreover, it allows to summarize existing data and understand what has happened in the past or is happening currently. This type of analytics helps to form strategies in the area of targeted marketing.
Diagnostic Analytics: When organizations want to unveil all the major events techniques such as data discovery, data mining and drill-down from the past to the present then they use diagnostic analytics. In this the analysts use probability and understand why and when events may occur. Moreover, techniques such as sensitivity analysis, and training algorithms are employed for classification and regression.
Predictive Analytics: As the name suggests, predictive analytics is used to predict the possibilities of future events with the help of statistical models and ML techniques. It interpret information to forecast potential outcomes and improve risk assessment and management. Moreover, one of the most common applications is sentiment analysis.
Prescriptive Analytics: It is used to make improved decisions and ensure best steps are taken. It usually involves testing and comparing outcomes to determine which has the potential. Moreover, one of the common use of this type of analytics is to create recommendation systems.
Career Prospects in Business Analytics
The job of a Business Analytics Professional is quite exhausting and is full of new challenges every day that requires creativity and innovation. Getting proper knowledge about the same will help the aspirants to outgrow their own capabilities and earn them acknowledgment at the workplace as well as globally. Therefore, it is equally important to choose the best career path for yourself to ace in this field. So, we're here to help you out with the latest and updated career opportunities that you'll find in the year 2022. Without wasting more time let's head towards the list.
1. Statistician
This is one of the most in-demand career. Mathematician and Statisticians are in great demand due to their ability to analyze large datasets by applying mathematical theories and techniques to solve practical problems in business, engineering, the sciences, and other fields. Comapnies require statisticians to meet administrative standards and deliver guidance on pracical solutions to challenges, statisticians collect, interpret and review quantitative data from surveys and experiments. According to statistics, statisticians will continue to be in high demand.
Average salary: INR 4 Lakhs per annum
2. Data analyst
Companies require professionals to clean, manage, and analyze their data to get meaningful output that can be used for the growth of the company. A data analyst serves as a porter for an organization's data so stakeholders can comprehend data and use it to make strategic business decisions. Moreover, they collect and review data to make better and clear plans and make better business choices in different fields. Data Analysis has become one of the most high-in-demand jobs around the world. Consequently, a Data Analyst salary in India is significantly higher than other software related professionals.
Average salary: INR 3.2 Lakhs per annum
3. Chief technology officer (CTO)
It is important to understand and implement technologies that help the company achieve its business goals and objectives. Therefore, a Chief technology officer (CTO) is the one who take technological decisions and report directly to the CEO of the company. It is important for companies to stay updated with the technology and all the new market trends to ace in the competitive market. So, Chief technology officers are in great demand these days and are highly paid off.
Average salary: INR 32 Lakhs per annum
4. Chief data officer (CDO)
According to statistics, 67.9 percent of the companies surveyed said that they had a CDO. It is very clear that Chief data officers are in great demand by firms these days. These professionals strategically supervise the data of the organization, thereby generating market value. The information they provide will lead the company to policy development, making of information strategy, control, and effective exploitation of data for the benefit of the company.
Average salary: INR 5.5 Lakhs per annum
5. Application architect
These are highly skilled technical professionals who use their useful insight, solutions and analytical, problem-solving and critical-thought skills for software creation, usage and maintenance. Moreover, you are expected to have high programming skills and specialization in designing architectures and language, and appropriate credentials and industry experience.
Average salary: INR 4 Lakhs per annum
6. Project manager
These professionals manages all the projects as well as manage the six aspects of a project, i.e. scope, schedule, finance, risk, quality and resources. They use their data-driven business skills to schedule, budget and track an organization's projects. Moreover, they also organize and have outstanding leadership and critical skills. Project management is certainly a good career with high salaries and abundance of sort at work, but it's also a demanding job.
Average salary: INR 13 Lakhs per annum
Average Salary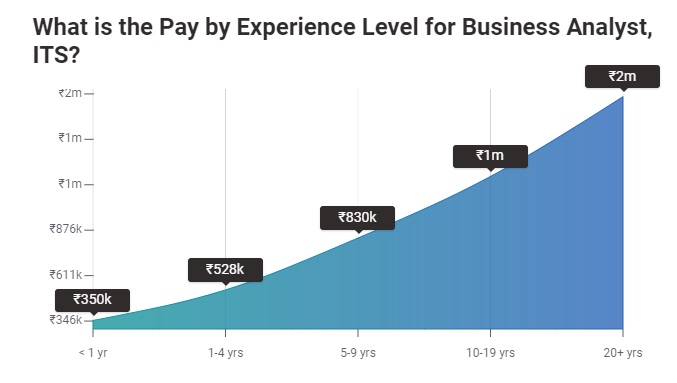 A Certified Business Analytics Professional are in great demand from a small to medium and large size businesses. Forecasting demands, risk assessment, identifying potential disruptions in the supply chain, and delivering aid in emergency times are a few systems where business analytics has proven to be a boon in India. Therefore, many MNCs are in a hurry to hire such professionals. Top MNCs like Groupon, Amazon India, TCS, Accenture, Exide Life Insurance, Mastercard, JP Morgan Chase, etc are hiring these professionals are a very fast rate.
This is an excellent career opportunity for those who have an idea of evaluating and analyzing data, developing solutions, handling numerous individuals while shining at IT. Moreover, the average salary for an IT business analyst is $67,762 per annum, according to data from PayScale.
Career Path to Follow
A business-focused strategy to analytics has permitted businesses to modernize the applicability of their product offerings by helping them maximise their reach, discover various business opportunities and drum into fresh revenue streams. Moreover, it has also helped businesses deliver optimised solutions to consumers, thereby enhancing customer experience. The scope and future of Business Analytics is very promising and offers growth. Therefore, if you're interested into grabbing this golden opportunity then you should not waste your time and begin your journey.
Take online courses on Business analytics and start taking some practice tests to build your confidence in this field. Moreover, we will suggest you take up the most popular are Government of India recognized Vskills Certified Business Analytics Professional online certification course that will boost your skills and knowledge. In the end, we wish you all the very best for your career. Happy Learning!