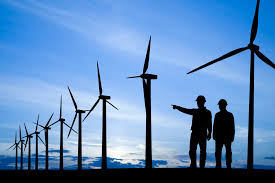 With the first demonstration of first electric light in Kolkata on 24th July 1879, India has came far away on the journey to become world's third largest electricity producing country in the year 2013.
around 70% of Indian electricity is produced by coal which is a also a high source of pollution in India. At the time when the other developed country like US and China are reducing their coal usage and looking for clean energy, India is planning to double its coal production by 2020.
Its very strange that the country which receives one of the highest global solar radiation, has the fifth largest installed wind power capacity in the world, is surrounded by sea on three sides and has about 340 hot springs over the country is dependent on conventional non renewable source of energy. And also sees the future in conventional sector only.
We know that conventional sources of India will last for another 200 years. But the way we are exploiting it, and the rate at which the demand of energy is increasing in India, there is a chances that these sources end up even early.
Why can't we look up our energy security in non conventional/renewable resources of energy provided all the reserves and facilities we have. We have reached to the Mars, but still we are unable to understand our mother Earth.
Its time to think how we see the future of our energy sector.
Click here for government certification in Energy