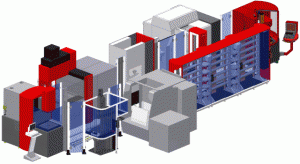 Flexible manufacturing System:
FMS is a technology that provides some flexibility to allow the system to react in the case of changes. Its introduction has lead to increased productivity and improved quality. It is a form of flexible automation in which several machine tools are linked together by a material-handling system, and all aspects of the system are controlled by a central computer.This system can serve the purpose of process design in an effective and efficient manner.
Features of FMS:
An FMS is distinguished from an automated production line by its ability to process more than one product style simultaneously.
At any moment, each machine in the system may be processing a different part type.
FMS can let us make changes in production schedule in order to meet the demands on different products.
Approaches to flexibility:
Flexibility means production of reasonably priced customized products of high quality with quick delivery. Different approaches to flexibility are follow:
Manufacturing
Operational
Customer
Strategic
Capacity
Three levels of Manufacturing Flexibility:
Basic Flexibility:
There are three types of basic flexibility:
Machine flexibility – the ease with which a machine can process various operations
Material handling flexibility -a measure of the ease with which different part types can be transported and properly positioned at the various machine tools in a system
Operation flexibility – a measure of the ease with which alternative operation sequences can be used for processing a part type
System flexibility:
Volume flexibility-measure of system's capability
Expansion flexibility-ability to build system
Routing flexibility-measure of alternative path
Process flexibility-measure of volume of part type that system can produce
Product flexibility-measure of part type which is manufactured with minor set-up
Aggregate flexibility:
Program Flexibility-ability of system to run for long period
Production Flexibility-volume of set of part types that system can produce without major investment in capital
Market Flexibility-ability of system to adapt to change market condition.
Click here for government certification in Project Management