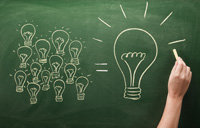 Process of becoming an Entrepreneur (continued)
Now till now I have written about the basic idea of becoming an entrepreneur. Before discussing about the process of becoming a successful entrepreneur one should know that no one can provide you a magic pill for this. It is a long journey that has many ups and downs and its completion depends on many factors. Before discussing further the traits, qualities and characteristics of an entrepreneur it is better to become aware about the problems that a young graduate might face:
Being young is a challenge in itself because you are not taken seriously by banks and accountants which means the problem of arranging money. Also the process of arranging money is tough as one has to also arrange for a guarantor.
Another problems are the self assessment problems: Some might initially think that what will happen if they will not succeed. Some will get afraid of the risks that are involved in the start-up.
Sometimes resistance of family and friends can come in the way .Another big question that can come in mind is the inertia factor that is Where and How to start?
Definitely these are the serious problems but they can be easily solved by adopting a sensible and creative approach. For doing this simply one must to know about the traits of an entrepreneur so that one can apply some of these . Traits are:
Entrepreneurs want high degree of achievement.
They pull their own strings.
They are ready to take moderate risks which help them in getting higher return on assets.
They have the ability to allow ambiguity.
They want to do more in less time.
Persistent problem solving.
They have positive energy levels.
They are high in self confidence and are optimistic.
They have internal locus of control.
They are driven to achieve.