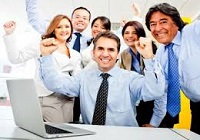 Survival and growth of any organization depends greatly on the performance of its employees, which, in turn, depends on two factors, the first- one's ability to work, and the second- one's willingness to work. While the first is determined by the education, training and experience that one has acquired, the second entails attitude of a person towards work. Whereas it is easier to make good any deficiency in the first factor by imparting further training and enabling one to get more experience, it is rather difficult to manage the second as it involves a change in behavior, which is only possible by motivating the person to work in a desired manner.
Motivation is what drives someone to do something. It is an inner or environmental stimulus to action, forces or factors that are responsible for initiation and sustaining behavior. There are two theories of motivation, incentive theory and needs theory. According to incentive theory, one is motivated to do something because one gets a reward- tangible or intangible for doing that or behaving in that manner. On the other hand, according to needs theory, a person's needs make him or her do things.
Have you noticed the difference between working on something you like and working on something you don't like? When you're motivated about something, you can work on it effortlessly. If your employees are motivated about something, they will voluntarily do more about it than what is required of them, since they enjoy doing it. Motivation is the spark that sets the fire and gets one started, it provides fuel to keep one going, it helps one do more than others. No wonder then, a motivated workforce plays a pivotal role in the success of any enterprise.
So how to keep your employees motivated? Before that, you should know what de-motivates an employee. Under-assignment- wherein a skilled person is assigned a job that does not require that skill; over-assignment- wherein a worker is overloaded to the extent that he feels exploited; buck-mastership- wherein the superiors, not doing anything themselves, pass on everything to their subordinates; manipulative behavior of the management- wherein the management engages in divide and rule policy or making false promises, and improper work environment – all these factors de-motivate the employees, and they either cease to work or lose interest in the same. So you should try to wipe these out from your organization. Of course, there is no single magic wand to do this as the needs and aspirations of employees differ greatly. However, there are some general guidelines which you can follow to promote work motivation in your organization.
A well-defined humanistic personal policy, wherein the workforce is regarded as a valuable asset of the organization and sufficient care is taken to satisfy its basic needs and aspirations, definitely boosts the morale of the employees. At Googleplex, the silicon valley headquarters of Google, the Googlers, as the company's employees are known, get their foods free at any of the micro-kitchens of the company, can do their laundry while they work using the washing machines of the office, can shed their extra fats in the company's six free gyms, and can move around the sprawling Googleplex using one of the company's hundreds of bicycles left around the campus for employees to use. At Facebook, no employee is required to have an insurance policy as the company provides insurance to its employees and their families. This kind of care lets the employees leave their worries behind, and they can work freely and with more zeal to achieve organization's objective.
In order to increase work motivation, stress should be given on increasing the effort of the employees towards performance. For this, good performance should be rewarded adequately and promotion should be based on merit and competence. Also jobs should be designed in such a manner that the new jobs have newer responsibilities and challenges. At Google, they use a novel concept of '20 per cent time' in which all Googlers devote 20 per cent of their time to work on any project they are interested in. Some of the Google's wildly successful products, such as Gmail and Google News were developed during Googlers' 20 percent time!
Employees must be made to feel that what they do in the job helps them to learn new things and move higher on the hierarchical ladder, their motivation will definitely be high. Hence, jobs should be analyzed and designed keeping this in mind. Also an employee should be helped to see how his or her job is useful for the department, for the organization, for a larger section of the community, for the society or for the nation. This will inculcate a sense of accomplishment in the employee, and motivate him/her to do more.
And last but not the least important, self-motivation by top-management, senior managers and supervisors is essential if the people working under them are to be motivated. The dictum "before you motivate others, you must first motivate yourself" should not be lost sight of!