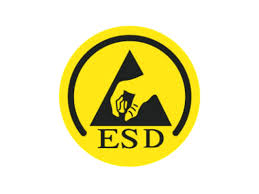 Electrostatic discharge is used in hardware testing.
ESD (electrostatic discharge) is a kind of test that hardware usually has to pass to be suitable for sale as well as use. The respective hardware must still work after it is passed through electrostatic discharge.
Every organization have it's own ESD limits which each hardware has to pass before being purchased. Every country has it's own rules and regulations for the level of ESD.
Electrostatic Discharge is release of stored static electricity.
Sources of ESD
All materials (insulators and conductors alike) are sources of ESD. They are lumped together in what is known as the triboelectric series, which defines the materials associated with positive or negative charges. Positive charges accumulate predominantly on human skin or animal fur. Negative charges are more common to synthetic materials such as Styrofoam or plastic cups.
How can you prevent ESD?
It's unlikely you can eliminate ESD completely from any site. However, experience has shown that the following guidelines are helpful:
1. Treat carpets and floors with compounds that reduce the buildup of static charges.
2. Use static floor mats where necessary.
3.Make sure the grounding system for equipment has a low impedance for ESD currents to dissipate to an earthing reference.
Thus if used correctly ESD can prove to be a huge help. But one should use ESD carefully.
Click here for government certification in Security
Click here for government certification in Testing